Spider-Man: No Way Home Trailer Dropped - The Loop
Play Sound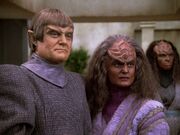 Romulan-Klingon relations shifted between being "blood enemies" and titular "allies" in the 23rd and 24th centuries.
Appendices
Background information
The existence of a "Romulan-Klingon alliance" in the 23rd century has never been explicitly stated. In "The Enterprise Incident", all that is said is that "Intelligence reports Romulans now using Klingon design." The Making of Star Trek (finished during the early part of the third season of TOS) does say, however, that the intention at the time was to have the Klingons and Romulans form an alliance against the Federation.
In developing Star Trek III: The Search for Spock, Harve Bennett originally wrote the film with the Romulans as the belligerents, whose vessel was designated the "Bird-of-Prey", but later rewrote the Romulans as Klingons, as they were determined to be more exciting. After having "Klingicized" the characters in the film, he decided to keep the vessel designation intact. Recalling his two-month binge watching of every episode of Star Trek that existed then (when TOS was the only live-action series), Bennett said, "I didn't change their ship, because I remembered a piece of trivia that stated there was a mutual assistance military pact between the Klingons and the Romulans for an exchange of a military equipment." (Starlog #103, February 1986, p. 17)
Though spotty references were made since the original reference, there were also few key indications that a loose alliance spottily existed between the two races for the next century:
According to Star Trek: The Next Generation Technical Journal, the Romulan cloaking device was acquired by the Klingons as an exchange for several D7 class battle cruisers for the Romulans during the Alliance. In fact, according to apocryphal accounts, in Seven Deadly Sins, Romulans required the power system of the D7-class ships to provide the power required to use the new improved cloaking device.
See also
External Links