Star Trek Timeline [INTERACTIVE]
Play Sound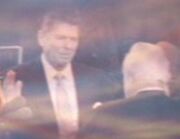 Ronald Wilson Reagan was a 20th century Human politician who served as President of the United States of America.
An image of him was among several historical images seen by Daniels and Archer in the time stream as the timeline reorganized itself. (ENT: "Storm Front, Part II")
Appendices
Background information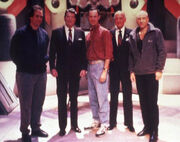 He was the 40th president and served from 1981 until 1989. Before entering politics, he was a Hollywood actor, whose credits include Kings Row (1942, with Dame Judith Anderson), Cattle Queen of Montana (1954, with Anthony Caruso), Tennessee's Partner (1955, appearing again with Caruso) and The Killers (1964, written by Gene L. Coon and co-starring Seymour Cassel). In addition, Whit Bissell, Skip Homeier and Dean Stockwell made appearances on General Electric Theater, a Sunday night anthology series hosted by Reagan from 1954 to 1962.
Ronald Reagan wrote in his diary on 23 June 1984, "After dinner we ran Star Trek III. It wasn't too good." [1]
Reagan (then former president) visited the Paramount Pictures studios in 1991 during the shooting of "Redemption". [2](X) Although unfamiliar with most of Star Trek, he did enjoy meeting Patrick Stewart, Brent Spiner and the many Klingon background performers hired for the episode. Later, when asked about the Klingons, he said "I like them. They remind me of Congress." During the tour through the sets including the Great Hall, an ailing Gene Roddenberry dropped his cane. The former president graciously knelt and retrieved it for him. Reagan later quipped, "I felt as if I had been knighted." ("Intergalactic Guest Stars" ("Presidential Visit: Ronald Reagan", TNG Season 5 DVD special feature) Patrick Stewart was more critical of the visit, stating, "Meeting Reagan was as grotesque and bizarre as you could image, and then more so. It was like being in the presence of a clockwork dummy. People would whisper in his ear and he would repeat what they said. He was very charming, but just not of this world." (Planet X, issue #1, p. 26)
The script of "First Contact" describes Malcorian Chancellor Avel Durken as "in his fifties, slight in stature, no Ronald Reagan here, there is a gentle, Woodrow Wilson quality, thoughtful, brilliant, committed."
Ron D. Moore once joked that one of the ships that cleaned out waste extraction from Deep Space 9 on a weekly basis was called the Reagan. (AOL chat, 1997)
External links