The SS Artemis was a 23rd century Federation colony ship.
Artemis was launched from Mars in 2274, on stardate 7678.43, on a colonization mission to planet Septimis Minor. The mission commander was Philip Peter Bryce, with Galen Pizzorno serving as Deputy Mission Director. There was a crew of 15, plus passengers. Contact with the ship was lost on stardate 7780.85. Numerous searches by Starfleet failed to locate the transport or any trace of its crew and passengers. (TNG: "The Ensigns of Command" okudagram)
After contact was lost, the ship's guidance system failed and took the craft off course. They instead headed for the planet Tau Cygna V and established a colony. (TNG: "The Ensigns of Command" okudagram)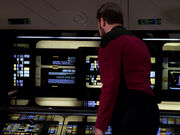 The fate of the
Artemis
was not stated in the episode, but as Tau Cygna V was the only suitable planet in range for landing, it was most likely eventually dismantled for materials.
Community content is available under
CC-BY-NC
unless otherwise noted.