Wiki Targeted (Entertainment)
Play Sound
The SS Artemis was a 23rd century Federation colony ship.
Artemis was launched from Mars in 2274, on stardate 7678.43, on a colonization mission to planet Septimis Minor. The mission commander was Philip Peter Bryce, with Galen Pizzorno serving as Deputy Mission Director. It had a crew of fifteen, plus passengers. Contact with the ship was lost on stardate 7780.85. Numerous searches by Starfleet failed to locate the transport or any trace of its crew and passengers. (TNG: "The Ensigns of Command" okudagram)
After contact was lost, the ship's guidance system failed and took the craft off course. They instead headed for the planet Tau Cygna V and established a colony. (TNG: "The Ensigns of Command" okudagram)
Background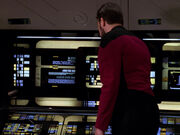 The fate of the Artemis was not stated in the episode, but as Tau Cygna V was the only suitable planet in range for landing, it was most likely eventually dismantled for materials.
Some of the information on the SS Artemis came from the okudagram Riker was reading in the episode. Though illegible on screen, a legible version was reprinted in The 24th Century Technical Manual, Vol. 2 (p. 41). Interestingly, only the first text block and the captions had relevance to the SS Artemis. The two lower paragraphs appeared to have been recycled texts concerning the Charybdis, intended for use on an otherwise unused okudagram in the earlier episode "The Royale", published in Star Trek: The Next Generation - The Continuing Mission (p.81). [1]
According to the episode's script, the Artimis was launched 142 years prior instead of 92 years.