Sarah Paul (born 26 June) is a Visual Effects Coordinator who worked between July 2011 and January 2014 for CBS Digital as Project Manager on the remastered version of Star Trek: The Next Generation.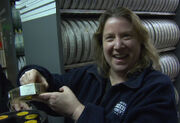 Paul was interviewed for the 2012 special feature Energized! Taking The Next Generation to the Next Level, released on the TNG Season 1 Blu-ray. Her name was also seen on remastered okudagrams; Sarah Paul Raymond in the first season episode "The Neutral Zone" and Sarah Paul in the seventh season episode "Inheritance".
Paul attended the South Catholic High School in Hartford, Connecticut and the Atlanta College of Art in Atlanta, Georgia. Among her earliest credits as production assistant in the visual effects department are episodes of the television mini series From the Earth to the Moon in 1998.
Paul then joined the company Whodoo EFX and worked in the special and visual effects department on the horror thriller Ghost of the Needle (2003), the horror film Dark Remains (2005), the comedy Failure to Launch (2006), and the short science fiction comedy The Chase (2007). The following years she worked for Whodoo EFX as visual effects producer on the horror thriller Anamorph (2007, with Eric Bruno), the drama Charlie Wilson's War (2007), the science fiction sequel Starship Troopers 3: Marauder (2008, starring Jolene Blalock), the video game Command & Conquer: Red Alert 3 (2008), the horror film It's Alive (2008), the thriller The Hole (2009, with Wade Williams and Dick Miller), and the drama Passion Play (2010).
She joined CBS Digital as project manager in 2011. Since January 2014 she is working as Head of Mastering at CBS Digital for the CBS Corporation.
External links
Edit
Community content is available under
CC-BY-NC
unless otherwise noted.