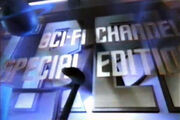 The Sci-Fi Channel Star Trek Special Edition was a series of ninety-minute specials which were broadcast on the Sci-Fi Channel in the US from mid-1998 to early 1999.
The channel advertised that the episodes of Star Trek: The Original Series were shown for the first time unedited since their original airing by NBC in the 1960s. This was actually not true, as it was Kaiser Broadcasting (operating a small chain of local television stations along the West, and East Coast) which first aired the series in syndication in 1969, showing it unedited for the last time. (Inside Star Trek: The Real Story, 1997, pp. 417-418) Brief documentary segments featuring William Shatner and Leonard Nimoy were interspersed throughout the episodes' footage.
This article or section is incomplete
This page is marked as lacking essential detail, and needs attention. Information regarding expansion requirements may be found on the article's talk page. Feel free to edit this page to assist with this expansion.
Community content is available under
CC-BY-NC
unless otherwise noted.