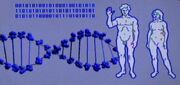 Search for Extra Terrestrial Intelligence (SETI) was a 20th century Earth effort to explore, understand and explain the origin, nature and prevalence of extraterrestrial life – most notably alien intelligence – in the universe.
The SETI greeting was displayed on a plaque on the hull of such NASA probes as Voyager 6 and Pioneer 10. (Star Trek: The Motion Picture; Star Trek V: The Final Frontier)
In 1996, a young researcher, Rain Robinson, detected the USS Voyager and transmitted the standard SETI greeting. (VOY: "Future's End")
External link
Edit
Community content is available under
CC-BY-NC
unless otherwise noted.