Star Trek Timeline [INTERACTIVE]
Play Sound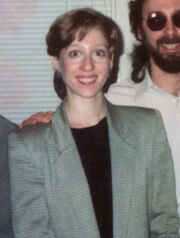 Shari H. Goodhartz (born 22 April 1960; age 62) wrote for three episodes of Star Trek: The Next Generation. She first wrote the story and teleplay for the third season episode "The Most Toys". She then wrote the story for season four's "Night Terrors" and co-wrote the story of season five's "Violations" together with Pamela Gray and T. Michael. In addition, Goodhartz worked as writing staff intern during the latter half of the third season.
Goodhartz graduated from the State University of New York with a Bachelor's Associates in English and Literature. Immediately after college, she began an internship at the Academy of Television Arts and Sciences. Following a six-year stint in corporate communications at Columbia Pictures, Goodhartz became a television writer at the Warner Bros. Comedy Worskhop and later earned an internship on Star Trek: The Next Generation, courtesy of the Writers Guild of America (WGA).
Following her time on Next Generation, Goodhartz wrote for such animated television shows as Gargoyles and Phantom 2040. She earned a 1993 Daytime Emmy Award nomination for her work Disney's Raw Toonage, an animated program which ran on CBS in 1992 and 1993. In addition, she received two 2001 WGA Award nominations in the Outstand Children's Script category for the Young Hercules episode "Hind Sight" and for Dragonheart: A New Beginning, the direct-to-video sequel to the 1996 film Dragonheart.
Goodhartz most recently wrote the script for a 2007 short film called The Attackmen, which stars veteran Star Trek actor Jeffrey Combs, Star Trek: Enterprise star Dominic Keating, and Star Trek: Voyager guest actor Michael Shamus Wiles.
External links