Star Trek Timeline [INTERACTIVE]
Play Sound
"
And I've got to say the
Star Trek
Wikipedia, Memory Alpha, which is online, has been so helpful. If you need to know what's inside of a photon torpedo, there it is online, because there are so many dedicated fans out there who have such a vast knowledge of the universe and the minutia of it.
"
"Maybe television is a better format for Star Trek. That's where it started, you know."
Simon Pegg (born 14 February 1970; age 52) is the English actor, writer, and comedian who portrayed Montgomery Scott in Star Trek, Star Trek Into Darkness, and Star Trek Beyond. Together with Doug Jung, Pegg also wrote the screenplay for Star Trek Beyond.
He previously worked with J.J. Abrams and other members of Star Trek's production crew on Paramount Pictures' Mission: Impossible III. Pegg is known for starring in and co-creating (with Jessica Stevenson) the cult British situation comedy series Spaced and for starring in the British comedy films Shaun of the Dead, Hot Fuzz and The World's End which he co-wrote with director Edgar Wright.
In 2009, Pegg was part of the Star Trek ensemble which received a Washington DC Area Film Critics Association Award nomination in the category Best Ensemble and won a Boston Society of Film Critics Award in the category Best Ensemble Cast. He shared these awards with Chris Pine, Zachary Quinto, Zoë Saldana, Karl Urban, Leonard Nimoy, John Cho, Anton Yelchin, Ben Cross, Eric Bana, Clifton Collins, Jr., Bruce Greenwood, Jennifer Morrison, Chris Hemsworth, Winona Ryder, Faran Tahir, and Tyler Perry.
In addition to his work on the Trek films, Pegg reprised his role and lent his voice to the video game Star Trek in 2013.
Career
Early career and international success
Hailing from Gloucester, England, and educated at Bristol University, where he received a Bachelor of Arts degree in Theatre, Pegg started his showbiz career as a stand-up comic before moving into film and television. He gained prominence as the co-creator, co-writer and star of Spaced, which ran from 1999 through 2001. He was nominated for the Situation Comedy Award from the British Academy of Film and Television Arts for his work on Spaced and also received a British Comedy Award nomination as Best Male Comedy Newcomer for Spaced and the sketch series Big Train.
Pegg, alongside Spaced colleagues Edgar Wright and Nick Frost, acquired international recognition for the "romantic zombie comedy" (or "rom-zom-com") Shaun of the Dead, which was a critical and financial success in both the United Kingdom and the United States. They then followed Shaun with Hot Fuzz in 2007, which enjoyed even greater success. These two films, along with the 2013 sci-fi comedy The World's End, comprise what is known as the Three Flavours Cornetto trilogy.
Star Trek
The announcement that Pegg had been cast as Scotty in 2009's Star Trek came on 11 October 2007. [1] Pegg beat out numerous actors for the part, including fan favorite Paul McGillion, who was ultimately cast in the film in a different role. According to McGillion, J.J. Abrams explained to him that he always had Pegg in mind for the role. [2] Pegg was reportedly "overjoyed" to have won the role of Scotty. [3]
According to Pegg, Abrams offered him the role of Scotty via e-mail. Pegg had just returned to England from filming How to Lose Friends and Alienate People in New York when he turned on his phone and found an e-mail from Abrams waiting for him that said "Do you want to play Scotty?" Pegg called it the most shocking e-mail he ever received. He was initially hesitant since he was worried about being tied to a franchise for nine years, to which Abrams responded, "If the worst thing that happens is we get to hang out every three years and have fun, what's the problem?" Pegg signed up shortly thereafter. [4]
Pegg has received blessings from the children of James Doohan, the actor who originally played the role of Scotty and died in 2005. Doohan's daughter, Dierdre Doohan, found Pegg to be "a perfect choice" to play Scotty. Doohan's son, Chris, agreed, stating:
"He may not look like Scotty, but his Scottish accent is very good, with a slight Glaswegian flare and he's a great actor. ... I believe that the casting of someone that is known more for comedic roles was a well thought out, smart decision. The character of Scotty was always good for a little comic relief ... and Simon Pegg is very funny, with impeccable timing." [5]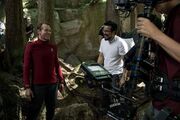 In a letter to Chris Doohan, Pegg conveyed his joy at being cast as Scotty and promised to be faithful to James Doohan's original portrayal:
"I can't tell you what a thrill it is for me to be cast in this role. Believe me when I say my participation in this film will be a 100% tribute to your Dad and a role that will forever belong to him." [6]
To prepare for the role of Scotty, Pegg sought the assistance of his Scottish wife, Maureen McCann, to hone his Scottish accent. [7] He also darkened his hair from its usual blonde to a shade of brown. [8] Pegg completed filming his scenes for the first film by 10 March 2008, although he returned to the production a few weeks later for some effects shots. [9] He completed his work on Trek on 24 March 2008, [10] having worked on the project for approximately five weeks. [11]
On January 21, 2015, it was announced the Pegg would co-write Star Trek Beyond. [12] Bryan Burk offered him the opportunity to write the film with Doug Jung, a prospect that Pegg called "terrifying". [13] Still, as quoted above, Pegg has cited this site and its contributors as an invaluable help in the preparation of the movie.
Pictures of Pegg are also used for card #53, Outpost Engineer M. Scott, card #80, Lieutenant Commander M. Scott, and card #97, Chief Engineer M. Scott, of the virtual collectible card battle game Star Trek: Rivals.
Pegg and odd-numbered Star Trek films
In the Spaced episode "Chaos", written by Pegg and Jessica Stevenson, Pegg's character, Tim, says, speaking of sure things, "sure as every odd-numbered Star Trek movie is shit." Pegg, of course, went on to star in the eleventh Star Trek film, an irony on which he has commented more than once. In 2008, at Comic-Con, Pegg said:
"In Spaced there is a line where Tim says something about every odd number Star Trek movie being shit which is a huge irony considering I'm starring in Star Trek 11. So it is funny how those things come back to haunt you. Obviously the rule doesn't apply anymore." [laughs] [14]
And shortly before the release of Star Trek, Pegg said:
"I don't know how many people know this but in Spaced there's a line where I'm talking about things that are sure in life and I say that every odd-numbered Star Trek film is shit. This was back when there were only seven or so and it was a widely held controversial geek's eye view of Star Trek. But that's not true anymore. That's most certainly been disproved by this movie. It's lovely to be a part of it. I am a self-professed fan of this kind of stuff and a geek, and to go from doing a sitcom about a guy whose life ends basically when Star Wars: The Phantom Menace comes out... I think if I was still doing Spaced now there would be an entire episode dedicated to how Tim Bisley, my character, would just be orgasmic about this movie. This is everything he wanted that film to be and wasn't. The irony of being part of that is not lost on me at all, I can assure you." [15]
On Enterprise
Despite being a Star Trek fan, he is a detractor of Star Trek Enterprise. According to a 2011 interview:
"I think that the theme music to Enterprise was probably the most hideous Star Trek moment in history. I couldn't believe that they had this great idea of sort of pre-Kirk/Spock Star Trek, and they gave it a dreadful soft-rock music start. It just seemed so ill-advised. I mention Admiral Archer [in 2009's Star Trek]—it isn't struck off because of the terrible music. Scotty actually mentions him. But [the theme music] is terrible. I've never seen Enterprise, because I couldn't get past that music. It would still be ringing in my ears when the show starts."[16](X)
Other projects
2001–2008
Pegg had a small role in HBO's acclaimed mini-series Band of Brothers with fellow Trek film actors Tom Hardy and Neal McDonough. Pegg later worked with Hardy in the 2003 film The Reckoning. He is one of two actors appearing in 2009's Star Trek to have worked with Tom Hardy; the other actor is Eric Bana.
In addition, Pegg has participated in a number of Doctor Who productions, including the audio story Invaders from Mars and a guest spot as The Editor in a 2005 episode of Doctor Who entitled "The Long Game". He has also narrated the entire 2005 season of the behind-the-scenes documentary series Doctor Who Confidential which the BBC airs after every new episode of Doctor Who. Pegg and Star Trek co-star Deep Roy are among the number of actors to appear in both the Star Trek and Doctor Who franchises. Pegg would not consider playing the role of the Doctor, however, because he is "too much of a fan." [17]
Pegg was seen in a cameo as a zombie in George A. Romero's Land of the Dead (starring Robert Joy), a role Pegg received at Romero's invitation after the director viewed Shaun of the Dead. Pegg also voiced a newsreader in Romero's Diary of the Dead. In Mission: Impossible III, Pegg played Benji, an IMF laboratory technician. Others who appeared in this film included Jeff Chase, Ellen Bry, Jane Daly, Bruce French, Tony Guma, Tracy Middendorf, and assistant director David Waters. In November 2005, with his work on M:I III complete, Pegg co-starred in Jake Paltrow's romantic comedy The Good Night, which was released in 2007.
In 2006, Pegg co-starred with Alice Eve and his friend, David Schwimmer, in the black comedy film Big Nothing. Pegg and Schwimmer previously worked together on Band of Brothers and they again collaborated on the comedy film Run, Fat Boy, Run. Pegg portrayed the title role in the latter film and also co-wrote the screenplay, while Schwimmer directed. In 2008, Pegg starred alongside Kirsten Dunst in the comedy How to Lose Friends & Alienate People.
2009–present
Following the release of Star Trek, Pegg was heard as the voice of Buck, an insane, one-eyed weasel, in the third Ice Age film, Ice Age: Dawn of the Dinosaurs (2009). Bill Hader also voiced a character in this film and went on to voice the computer of the USS Vengeance in Star Trek Into Darkness. Pegg has also voiced various characters in the popular stop-motion animated series Robot Chicken (2009).
In 2009, Pegg and his best friend and colleague, Nick Frost, joined the cast of Steven Spielberg's motion capture 3-D film The Adventures of Tintin: Secret of the Unicorn, based on Georges "Hergé" Remi's comic book series. Pegg portrayed Inspector Thompson, while Frost played Inspector Thomson. The film was released in December 2011. [18] Pegg and Frost also wrote and starred in the sci-fi comedy Paul (2011), about two British comic book geeks who discover an alien while on a road trip through America. John Carroll Lynch appeared in this film, as well.
Pegg's other film projects include the comedy thriller Burke and Hare (2010), in which he and Andy Serkis play William Burke and William Hare, Irish immigrants who resolved to murder to provide cadavers for a medical school in Edinburgh, Scotland. Pegg voiced the role of Reepicheep in The Chronicles of Narnia: The Voyage of the Dawn Treader (2010) and reprised his voice-over role as Buck in the fourth Ice Age film, Ice Age: Continental Drift. Nick Frost also voiced a character in Continental Drift, as did Patrick Stewart. Pegg and Stewart later participated in the 2012 short film The Olympic Ticket Scalper.
In the 2011 action sequel Mission: Impossible – Ghost Protocol, Pegg reprised his role as Benji from Mission: Impossible III. Ghost Protocol was produced by J.J. Abrams and fellow Star Trek producers Bryan Burk, Jeffrey Chernov, and David Ellison. In 2012 Pegg was heard as the voice of Dengar in the Star Wars: The Clone Wars episode "Bounty". He also starred in and executive produced the comedy A Fantastic Fear of Everything.
Pegg's next film, The World's End (2013), is the third and final entry in the "Three Flavours Cornetto trilogy" that also includes Shaun of the Dead and Hot Fuzz. Pegg played the lead role, wrote the screenplay and executive produced this movie. He played the title role in Hector and the Search for Happiness (2014), which co-stars Christopher Plummer, and lent his voice to the animated film The Boxtrolls (2014). He further worked on the thriller Kill Me Three Times (2014).
With his appearance in the seventh, 2015 movie installment in the Star Wars franchise, Star Wars: Episode VII – The Force Awakens, Pegg has become part of four hugely successful live-action media franchises: Doctor Who, Mission: Impossible, Star Trek, and Star Wars. (Indeed, Pegg and Deep Roy are the only two actors to have appeared on television or film Star Trek, Star Wars and Doctor Who.) In 2016 Pegg was again heard as the voice of Unkar Plutt in the video game Lego Star Wars: The Force Awakens.
Most recent projects include the thriller Terminal (2016) and Steven Spielberg's science fiction thriller Ready Player One (2018).
Awards and accolades
Pegg won several accolades for Shaun of the Dead, including Best Screenplay from the British Independent Film Awards and the Peter Sellers Award for Comedy from Evening Standard British Film Awards.
In September 2007 he was named Actor of the Year by the British GQ Men of the Year Awards. Two months later, Entertainment Weekly ranked Pegg #4 in their "Eight to Watch in '08." [19] The following month, Pegg was awarded the Ronnie Barker Writers' Guild Award. [20]. Hot Fuzz was named Best Comedy of the Year in the 2008 Empire Awards on 10 March 2008. [21]
On 4 December 2008, Pegg received an honorary fellowship from the University of Gloucestershire for "contribution to the arts as an actor, writer, comedian, producer and director." [22] In 2010, he was nominated for a Visual Effects Society Awards in the category "Outstanding Animated Character in an Animated Feature Motion Picture" for voicing Buck in Ice Age: Dawn of the Dinosaurs.
External links