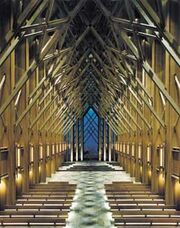 The SkyRose Chapel is a memorial chapel at Rose Hills Memorial Park and Mortuary, in Whittier, California. The building was designed by architects E. Fay Jones and Maurice Jennings, and constructed in 1997. [1]
In Star Trek, the chapel was used as a filming location for several interior locations on Vulcan, including the scene in which Spock informs the committee of Vulcan elders that he has chosen to attend Starfleet Academy instead of the Vulcan Science Academy. [2] [3]
The scene in which Sarek comforts Spock about his fight in the skill dome was also filmed there.
The chapel has also been used as a filming location for other productions, including the HBO series True Blood, in which it served as the church headquarters for the Fellowship of the Sun. [4] [5]
External links
Community content is available under
CC-BY-NC
unless otherwise noted.