Star Trek Timeline [INTERACTIVE]
Play Sound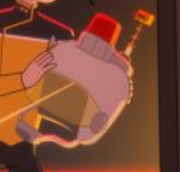 A space fun helmet was headgear of unknown purpose and origin.
Ensign Beckett Mariner had stashed a space fun helmet on the USS Cerritos, along with many other contraband items. When the ship was being boarded by Pakleds in 2380, she armed the crew with her contraband, with Lieutenant Commander Andy Billups picking up the space fun helmet. (LD: "No Small Parts")

In the real world, the Space Fun Helmet was a children's toy released in 1976 made by Enco Industries. It came with a decal sticker sheet with the names "Kirk", "Spock", "McCoy", and "Scott", and the words "CREW", "Property of USS ENTERPRISE" and "Return to Ward Room." listed on the back of the helmet. Other than these details, the Space Fun Helmet had absolutely nothing to do with
Star Trek
whatsoever – that is, until its "official" appearance forty-four years later, in
Star Trek: Lower Decks
.
[1]