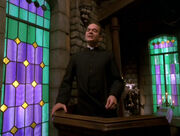 St. Mary's Church was a location in the Paris 042 holodeck program.
In 2376, The Doctor, in the guise of Father Mulligan, gave sermons at this church to Fair Haven parishioners. When the townspeople mistook Tom Paris and Harry Kim's attempt to correct the character subroutines in Sullivan's pub as an act of black magic, they relocated the pair to St. Mary's for an improvised exorcism. (VOY: "Spirit Folk")
Community content is available under
CC-BY-NC
unless otherwise noted.