A stand-in is a person who substitutes for an actor on set while the lighting is adjusted, the action and camera moves are blocked, and other production details are taken care of prior to actual filming. Generally, stand-ins are chosen because they are of a height and coloring similar to the performer for whom they are standing in. On Star Trek, stand-ins were also used for various computer-generated characters, such as Slar or the Xindi-Insectoids. Stand-ins often work as background performers too, because they are always on set and are called the "second team".
Body doubles and photo doubles were sometimes used on-screen. They look (or are made to look) like the actor they are replacing, to avoid making it obvious to the viewing audience that it is not the same person. They stand-in for an actor and replace the person in wide shots and also in partial shots. When a scene shows a hand that pushes a button it is most likely a hand double. Photo doubles were also used in scenes which show the same person twice, one as a mirror person and the other one as the "real" person or an older version of the character, for example, when Brent Spiner played 3 separate characters in one scene (Data, Lore, and Soong) in "Brothers".
For the main cast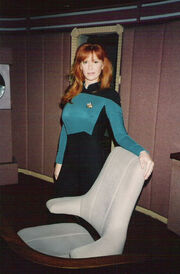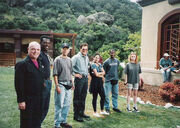 For the Recurring and guest cast
External links
Community content is available under
CC-BY-NC
unless otherwise noted.