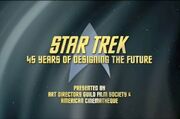 Star Trek: 45 Years of Designing the Future was the title given to the live registration of a media event called "Star Trek Designers Talk Trek History At Art Directors Guild Event", held on 27 September 2009 at the Egyptian Theater in Hollywood. The event was organized by the Art Directors Guild (ADG), the organization responsible for the ADG Excellence in Production Design Awards. The event celebrated the contributions production designers had made to the live action Star Trek franchise, spanning the era from Star Trek: The Original Series through the 2009 movie, Star Trek. To this end they had production designers, representing this period, as guests of honor, discussing in detail the work they have done for the productions. The event was moderated by Daren Dochterman, and had several other Star Trek alumni in attendance, such as Mike and Denise Okuda, Alan Kobayashi, James Van Over, John Eaves, Fritz Zimmerman and Larry Nemecek. [1]
ADG edited the live registration as a two hour documentary and had it posted as a 13-part vidcast on their website. The last part, was added as a tribute to the late Harold Michelson, and originated from the special features found on Star Trek: The Motion Picture (The Director's Edition) DVD. For The Original Series Production Designer John Jefferies it was a timely tribute, as he was to pass away only a half year later.
Interviewees
John Jefferies
Harold Michelson, posthumous in archive footage
Community content is available under
CC-BY-NC
unless otherwise noted.