Wiki Targeted (Entertainment)
Play Sound
Star Trek: Bridge Crew is a first-person virtual reality game, released on 30 May 2017. It is set in the alternate reality, after the events of 2009's Star Trek, where you play as the crew of the USS Aegis (NX-1787) (β), a ship tasked with finding a homeworld for the survivors of Vulcan. The ship explores a region known as "The Trench", where it will encounter the Klingons. [1]
The game also provides alternative settings like the Prime Constitution-class bridge from Star Trek: The Original Series. [2]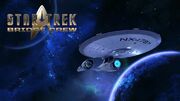 Bridge Crew debuted at E3 2016, with a promotional video of LeVar Burton, Jeri Ryan, and Karl Urban play-testing the game. [3]
At the E3 conference held from June 14-16, 2016, it was nominated for a Game Critics Award for "best VR game".
Summary
Blurb

Star Trek: Bridge Crew puts you and your friends in the heart of a starship, where – as officers of the Federation – every action and decision you make together will determine the fate of your ship and crew. Developed specifically for VR, Star Trek: Bridge Crew is the only game to offer a true-to-life level of immersion in the Star Trek universe.
In Star Trek: Bridge Crew, the Federation dispatches you and your crew to command the new vessel U.S.S. Aegis as part of a critical initiative. Your mission: explore a largely uncharted sector of space known as The Trench, in hopes of locating a suitable new home world for the decimated Vulcan populace. The Trench contains stunning beauty and undiscovered wonders, but also strange anomalies and dangers yet unknown. The Klingon Empire is also active in the region, and their purpose is undoubtedly a threat to the Federation's plans. It's up to you and your crew to chart the sector to determine the Klingons' aims, and to secure a peaceful Federation presence.
Excerpts of copyrighted sources are included for review purposes only, without any intention of infringement.
Downloadable content
Just over a year after the game's original release, Star Trek: The Next Generation content was released on 24 July 2018. Players were now able to play aboard the USS Enterprise (NCC-1701-D), and engage with new enemies like the Borg and the Romulans. [4]
Ubisoft also hinted at a Star Trek: Deep Space Nine expansion. [5]
External links