Star Trek Timeline [INTERACTIVE]
Play Sound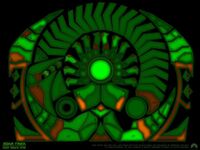 Releases of Star Trek: Deep Space Nine on DVD began in 2003.
Like with the Star Trek: The Next Generation, region 1 releases were originally marketed in hardboard carton packages, whereas the region 2 releases were packaged in hard plastic cases. Japan marketed both versions, The European region 2 hard plastic cases as "Special Premium Boxes", limited to 5,000 copies per season. Noteworthy is that the region 2 edition contained special features that were left out on the regular region 1 editions, due to the "retail exclusive" marketing strategy utilized in that region (see individual entries for particulars).
The original Region 2 box sets included an interactive CD-ROM, seven in total, which build a DS9 database when used in conjunction with each other. The database features information on the episodes, characters, civilizations, planets and technology of the series. The CD-ROM also included a screen saver.
On 30 April 2007, slimline versions of the season box sets were released in Region 2, at a much lower price point. The German editions of the slimline DVDs split seasons two to seven into two parts.
Releases
note: only listed are the first known release date for each respective region, which in the case of Region 2 does not necessarily concern the UK.
Season releases
Collections
Background information
DVDTalk.com named the Star Trek: Deep Space Nine DVDs as being number 11 on its top 20 list of DVDs released in 2003. [1]