Star Trek: Hidden Evil is an adventure game set in the Star Trek universe. The game sees the player embody the persona of Ensign Sovok, a Human raised by Vulcans, who, as a result of this unusual upbringing, can use the Vulcan nerve pinch.
Marketed as the sequel game to Star Trek: Insurrection, the game embroils the player in a plot to harness the destructive powers of a coveted genetic seed. After discovering a warning from the Ancient humanoids, the player must engage alien forces and outwit foes in a series of challenging missions, or the galaxy will fall victim to a ruthless archenemy.
Hidden Evil was poorly received, garnering a 4.0 from IGN and 4.5 from GameSpot. [1] [2] In addition to weak storytelling, the game shipped with numerous technical glitches.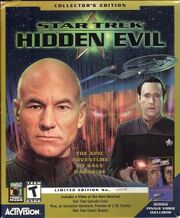 A Collector's Edition of Hidden Evil, released in the US, included the full game in special packaging, a VHS tape featuring The Next Generation series finale "All Good Things...", and electronic previews of two WildStorm Star Trek comics: "False Colors" and "Perchance to Dream". [3]
Cast
Crew
Presto Studios
Tim Tembreull – Producer
Eric Dallaire – Writer/Game Designer
Victor Navone – Creative Director
Michel Kripalani – Executive Producer
Michael Saladino – Lead Programmer
Max Elliott – Senior Programmer/CTO
Lars Liden (Ph.D.) – Programmer/AI Specialist
Keith Gurganus – Programmer
Casey Steffen – World/Level Builder
Level Builders
Andy Schatz
Narayan Brooks
Farshid Almassizadeh – Technical Guru
Francis Tsai – Conceptual Designer
Dan Gregoire – Lead Pre-Rendered Artist
Pre-Rendered Artists
Derek Becker
Raymond Wong
Eli Enigenburg – Technical Director/Animator
Animators
Mike Brown
Steve Kim
Sean Keegan – Modeller
James Rochelle – Texture Artist
Jamey Scott – Composer/Sound Designer
Additional Production Assistance
Jose Albanil
Chris Ashton
Kevin Baird
Shawn Ellis
Jennifer Hindman
Prakash Kripalani
Kathleen McMahon
Phil Saunders
Gary Scillian
Greg Uhler
Vincent Weeks
Susan Weyer
Mark Whittlesey
Voice-over sessions directed by Jonathan Knight
Voice-over sessions engineered by Intersound Inc.
Viacom Consumer Products / Paramount Pictures Liaisons
Juliet Dutton – Director, Interactive Product Development
Harry Lang – Manager, Interactive Product Development
"Star Trek - Main Title" by Alexander Courage (Bruin Music Company/BMI)
Star Trek Created by Gene Roddenberry
Activision
Jonathan Knight – Executive Producer
Laird M. Malamed – Global Brand Manager
Michael Webster – Associate Brand Manager
Ryh-Ming C. Poon – Publicist
Aaron Gray – Lead Production Tester
Production Testers
Steve Rosenthal
Steven Elwell
Paul Baker – Production & Technology Coordinator
Chris Lewis – Product Marketing Manager, UK/ROE
James Beaven – PR Manager, UK
Sarah Ricchiuti – PR Manager, ROE
Andreas Stock – Marketing Manager, Germany
Markus Wilding – PR Manager, Germany
Achim Kaspers – Jr. Product Manager, Germany
Bernard Sizey – Marketing Manager, France
Guillaume Lairan – Product Manager, France
Diane De Domecy – PR Manager, France
Paul Butcher – Marketing Director, Asia Pacific Region
Peter Nielsen – Localizations Manager
Sandi Isaacs – Director, Latin American Publishing
Sara Pelton – Goddess
John Sherwood – Project Lead
Matthew Powers – Senior Project Lead
Testers
Alex Coleman
Phil Wong
Doug Palma
David B. Marling
Josh Horowitz
Stephen Boisvert
Richard Kurnadi
Chris Rangel
Chris Bierman
John Cung
Mike Restifo
John Fritts (Compatibility Lead)
Sean Hendon
Nicole Dodd
Brian Ullmer
Chad Bordwell
Kragen Lum (Compatibility Tester)
Marat Gleyzer
Hector Garcia (CRG Tester)
Andrew Mitchell (Intern)
Justin Barod (Intern)
Bob McPherson – Customer Service Manager
Jermaine Clarke – Customer Service Lead
Glenn Ige – Technical Help
Creative Services by Ignited Minds
Ron Gould – Creative Director
Ron Graening – Production Manager
Erik Jensen – Senior Designer
Lori Ellison – Copywriter
Michael Rivera – Documentation Director
Belinda M. Van Sickle – Documentation Writer & Production Artist
Lydia Estrada – Media Director
Jean Powell – Director of Video Production & Event Management
Denise Walsh – Activision Liaison
Claudia Plasencia – Account Director
Eric Dallaire – Additional Manual Text
Special Thanks
Viacom Consumer Products/Paramount Pictures
Pam Newton
Terri Helton
Andrea Hein
Rick Berman
Peter Lauritson
David Rossi
Mary Beth Roberts
Irwin Z. Robinson
Activision Management
Derek Guillermo McLeish
Ehtisham Rabbani
Mitch Lasky
Kathy Vrabeck
Ronald Scott
John Burns
Bob Dewar
Jim Summers
Maryanne Lataif
George Rose
Lawrence Goldberg
Ron Doornink
Brian Kelly
Robert Kotick
Quality Assurance and Customer Service
Jason Wong
Eric Zala
Sam Nouriani
Aaron Casillas
Marietta Pashayan
Tim Vanlaw
Mark Robertshaw
Juan Valdes
Aaron King
Indra Gunawan
Todd Komesu
Neil Barizo
John Fritts
Chris Keim
Tanya Langston
Willie Bolton
Stacey Drellishak
Jenny Cassel
Others
Eric Johnson
Boyd Lafant
Billy Davis
Alpita Patel
Trey Watkins
Marc Turndorf
James Gottlieb
Cecilia Barajas
Sean Dunn
Marty Stratton
Ellie Winkleman
External links
Community content is available under
CC-BY-NC
unless otherwise noted.