DVD release

Series:
Star Trek films
No. of discs:
2
Director:
Robert Wise
Region 1 release date:
6 November 2001
Region 2 release date:
6 May 2002
Region 4 release date:
5 June 2002
Rating(s):
Reference:

ASIN B00005JKHP

(region 1)


ASIN B00005UO5T

(region 2)
Year:
2270s

Main menu from Disc 1

Main menu from Disc 2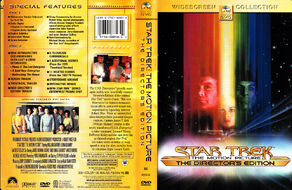 Star Trek: The Motion Picture – The Director's Edition is a special two-disc widescreen Director's Edition DVD of Star Trek: The Motion Picture, featuring new scenes, enhanced visual effects, a new sound mix as well as a selection of especially produced special features, which constituted a first for a Star Trek home video format.
Summary
Taken from the back cover
The USS Enterprise proudly soars again in this new, beautifully restored Director's Edition of the original Star Trek movie classic. This new Director's Cut features enhanced visual effects and a new sound mix, supervised by legendary director Robert Wise. When an unidentified alien destroys three powerful Klingon cruisers, Admiral James T. Kirk (William Shatner) returns to the newly transformed USS Enterprise to take command. Leonard Nimoy, DeForest Kelley and the cast from the acclaimed original Star Trek television series mobilize at warp speed to stop the alien intruder from its relentless flight toward Earth.
Taken from the interior booklet
A Sub-Space Communication from the Director...
It isn't often that an artist gets to revisit an old work, and ordinarily, I wouldn't consider it. Art, and especially film, which is an inherently collaborative medium, is not created in a vacuum. Rather, it results from a combination of forces and personalities, coupled with limitations of time, budget, and technology, which all converge in a way that is unique to a moment in time. Gene Roddenberry seemed to understand concepts like this, and he also believed, if STAR TREK is to be accepted as a mirror of his imagination, that time travel would one day be a reality. My experience in creating "The Director's Edition" of STAR TREK: THE MOTION PICTURE has come closer to that reality than I ever imagined.
STAR TREK was a prestigious film for Paramount Pictures, and their support was unswerving. Unfortunately, even they couldn't stop the clock from ticking, and as we began to assess the ambitious technological breakthroughs we were attempting, we gradually realized that it was going to be a race. Thanks to a dedicated cast and crew who worked far beyond the call of duty, we survived the chaos of our final weeks and delivered a movie on the date promised...December 7, 1979. We had removed several key dialogue scenes in order to accommodate our incoming effects work, but no time remained to work on properly balancing these two components.
Thanks once again to Paramount's support, we have been able to complete the film as "The Director's Edition." In addition to finding a new, and I feel, proper editorial balance for the film, we have also completed those effects shots and scenes which we had to abort in 1979, and have given the film a proper final sound mix. It has been an opportunity which I never believed would happen, and one for which I am grateful beyond words. Gene Roddenberry was right... time travel IS possible.
- Robert Wise
Excerpts of copyrighted sources are included for review purposes only, without any intention of infringement.
Chapters
Like most DVDs, the film has been sectioned into chapters, similar to tracks on a CD. The titles of these chapters are listed below.
| Scene | Title |
| --- | --- |
| 1 | Overture |
| 2 | Main Title |
| 3 | Klingon Battle |
| 4 | Vulcan |
| 5 | Starfleet Headquarters |
| 6 | The New Enterprise |
| 7 | Welcome Aboard |
| 8 | Transporter Malfunction |
| 9 | Mission Briefing |
| 10 | The Navigator Ilia |
| 11 | Friends Reunited |
| 12 | Ready For Departure |
| 13 | The Wormhole |
| 14 | Decker Speaks Freely |
| 15 | Spock's Arrival |
| 16 | Warp Speed |
| 17 | Red Alert |
| 18 | The Intruder Communicates |
| 19 | Entering The Cloud |
| 20 | The Alien Vessel |
| 21 | Plasma Probe |
| 22 | Into The Maw |
| 23 | The Probe |
| 24 | Memory Patterns |
| 25 | Spock's Journey |
| 26 | Simple Feeling |
| 27 | Entering Earth Orbit |
| 28 | The Orifice Opens |
| 29 | V'ger Revealed |
| 30 | A New Life Form |
| 31 | End Credits |
| 32 | Director's Edition Credits |
Special features
Disc One
Disc Two
Documentaries
Other
Theatrical trailer (2:27)
Director's Edition trailer (1:37)
TV Spots – Trailers which advertise the film's original release. The titles of these commercials are listed below.
Hardware (0:33)
Startle Your Senses (0:33)
Enterprise (0:33)
Cast/Human Adventure (0:33)
Spiritual/Startle Your Senses (0:33)
Startle/Human Adventure (0:33)
Event/Common Experience (0:33)
Five additional scenes – Additional scenes taken from the 1979 Theatrical Version which are missing in the Director's Edition. The titles of these scenes are listed below. Also included are various other 'trims' and outtakes which were either shortened, deleted or remade for the Director's Edition.
Vulcan and Starfleet (4:15)
Attack on the Enterprise (2:36)
Cloud Journey (3:31)
V'Ger Flyover (5:03)
The Wing Walk (4:48)
Trims (5:46)
Outtakes (2:50)
Eleven deleted scenes – Additional scenes taken from the 1983 Television Version of the movie. The titles of these scenes are listed below.
Sulu and Ilia #1 (0:56)
Sulu and Ilia #2 (0:30)
Kirk's Quarters (0:24) Officers' Lounge (0:13) Attack on the Enterprise (1:08) Intruder Transmission (0:35) A Huge Vessel (0:47) Kirk Follows Spock (1:13) Ilia's Quarters #1 (1:05) Ilia's Quarters #2 (1:20) It's Creator is a Machine (0:17)
Storyboard archive – An assortment of early concept sketches for three scenes – "Vulcan" (15 images), "Enterprise Departure" (30 images), and "V'Ger Revealed" (39 images). These show that the new Vulcan and V'Ger scenes match the director's original vision much better than the theatrical release did.
Enterprise TV series promo spot – A trailer for Enterprise, which was new at the time of the DVD's release. (2:32)
Interactive animated menus
StarTrek.com
Background information
Since no standard DVD edition of the film was released at the time, this was the only version of the film released to DVD until the 2009 Region 2 Star Trek: Original Motion Picture Collection included the original theatrical edition. In North America The Director's Edition was also made available on VHS.
While it received the blessing and support from Paramount Pictures, the studio itself had no production input; rather the DVD project was an initiative of Robert Wise Productions, the production company of original Director Robert Wise, on the suggestion of David C. Fein and Michael Matessino under whose auspices the project was ultimately realized. (Star Trek: The Magazine Volume 2, Issue 8, p. 25) The production company is officially credited as such, and not Paramount.
Robert Wise was initially reluctant to embark on the project and needed some gentle prodding by Fein and Matessino; "In 1997, he finally said, "STAR TREK really was an unfinished film." Shortly after making some initial inquiries, he asked us to go into the studio to work out the deal to make the project happen, and also to work with him to finally complete the movie," as Matessino elaborated. (Star Trek: The Magazine Volume 2, Issue 8, p. 25)
Formally, Robert Wise Productions had subcontracted the production of the specials/documentaries and the remastered musical score to Sharpline Arts, the production company of Fein and Matessino. The soundtrack was remastered in Dolby Digital 5.1 by

Chuck Michael

under the auspices of Matessino, whereas as the video, including the newly inserted CGI elements, was executed in 480i/576i S(tandard)D(efinition), conforming to contemporary television standards as the project was conceived as a home video format only. Longstanding Star Trek visual effects vendor Foundation Imaging was subcontracted to provide the additional CGI effects on recommendation of Daren Dochterman, who subsequently served as effects supervisor. (Star Trek: The Magazine Volume 2, Issue 8, pp. 52-62)
Unlike in the theatrical and the TV versions of the film, V'ger is shown for the first time in its entirety as one of the newly conceived CGI effects.
Building upon experience gained previously, the special features were produced under the auspices of co-producers Fein and Matessino, who actually were the pioneers of the phenomenon when their company Sharpline Arts produced these for popular genre films on the preceding LaserDisc format, much to the acclaim of collectors and film buffs.
This is the very first Star Trek home video entertainment format release to have special features included, specifically produced for its release in the form of audio and text commentaries, as well as elaborate and more in-depth documentaries – as opposed to the few superficial, promo filler ones included on the prior, "vanilla" DVD releases – , therefore becoming the first Star Trek DVD title to make the fullest use of the intrinsic qualities of the DVD format, and going on to become a staple on subsequent home video releases.

Turning out to be very well received (also due to the preceding point), the Director's Edition formed the basis for Paramount to reissue themselves the other nine prime universe films in the same vein as well as the 2002-2005 two-disc "Special Editions collection" – into which the originally intended stand-alone Director's Edition was retrofitted as the first one – , with many newly produced special features (now primarily under the auspices of Patricia Rose Duignan, Donald R. Beck and Stephen R. Wolcott). For region 2 these subsequent releases came initially in matching soft-board slipcases from Star Trek II: The Wrath of Khan onward. The Director's Edition had been treated indiscriminately for both regions, being issued without slipcase in both cases, with the exception of the Netherlands and Flanders where the first release came within a dark-blue hardboard gold-embossed slipcase.
A high-definition Blu-ray version of the Directors Edition was reported on 30 April 2013 for release. The announced release date proved to be premature though, as it turned out that Paramount Pictures had failed to maintain ownership over the CGI elements that were added to the Director's Edition. Former employee Adam Lebowitz of Foundation Imaging has reported that all these elements were left on the company servers when they were auctioned off after the company went out of business shortly after having completed the Director's Edition commission, which would mean that the studio has to painstakingly recreate all these elements. [1] Still, his former Foundation colleague, Robert Bonchune, strongly indicated that these elements are still in existence, as some ex-employees had made backups, including Bonchune, of all the Star Trek files on their own computers, and could be made available to the studio if they were so inclined. [2]

In the early summer of 2016, during the early advertisement campaign for the 10 Movie Star Trek Collector's Set - Limited Edition Steelbook Collection Blu-ray set, especially by UK retailer Zavvi [3], there had been considerable confusion on which version of The Motion Picture was included, as the early released imagery showcased the cover art of The Director's Edition, getting the hopes up of fans, which were squashed though a short while later when it was revealed that "the studio marketing artist who created that shot simply used the wrong cover art for the film". [4] Subsequent advertisements were adjusted accordingly. Still, and somewhat cynically, the German (

ASIN B01JJ933BA

), French (

ASIN B01FV3FLTU

), and Italian (

ASIN B01F3SKQTI

) individual steelbook releases continued to be marketed featuring the wrong cover art.
In 2017, it was one of the co-producers of the Director's Edition, David C. Fein, who has confirmed Bonchune's assessment – incidentally having already mentioned it in the 2007 StarTrek.com podcast – , by stating it was he who still had all the original digital effects elements available for remastering to Blu-ray standards. "We have all that we need. Would I like a few more pieces... sure. But we have everything we need," stated Fein, "All of the shots in the film were created with HD in mind so the quality of the models and elements were much higher than the SD renderings. We have everything, and when the time is right, we'll use them. Again, there is no truth that anything is missing." Fein also confirmed that a Blu-ray release was put on the backburner as "Paramount has yet to green light the project. We've had some discussions," adding that "it'll happen, the only question is when are we going to go ahead with it". [5] As of 2018 though, the status of a Blu-ray release remained yet unknown, and as a result, only the original, theatrical version has seen release in high-definition versions. (see: main article for further particulars) Nonetheless, preliminary talks were reported by both Trekcore and TrekMovie.com to have resumed in July 2019 for a remastered release, albeit for a 4K Ultra HD Blu-ray one.
On 7 July 2021, it became clear that the talks had been concluded, when a 4K UHD of the "Director's Edition" was officially announced for a 2022 release exclusive to Paramount+ for a period of time. The original Fein, Matessino, and Dochterman restoration team were again signed for that project's oversight. [6]
Star Trek: The Motion Picture – The Director's Edition DVD Premiere Event
Five days prior to the official DVD release, on 1 November 2001, Paramount Pictures had organized an event in its Paramount Theatre of the Arts, called the "Star Trek: The Motion Picture – The Director's Edition DVD Premiere Event". The event, to which several hundreds of guest were invited, among others from press and media, [7] entailed the world premiere of the Director's Edition as a theatrical screening, followed by lavish banquet, complete with Q&A sessions with the production team. A host of Star Trek alumni, old and new, and the entire production team were in attendance. For the occasion the lobby of the theater was turned into a mini-exhibit with several production assets, such as uniforms and props on display in glass cabinets. The actual refit-Enterprise studio model was prominently featured in the banquet hall, mounted on one of the buffet tables. [8]
Further reading
External link