Star Trek Timeline [INTERACTIVE]
Play Sound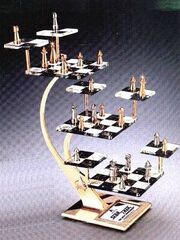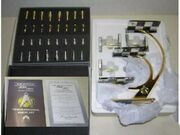 The Star Trek: The Next Generation Tridimensional Chess Set was an officially-licensed release from The Franklin Mint in 1995. It is modeled on the 3-D chess games used in the Ten Forward lounge aboard the USS Enterprise-D as seen in Star Trek: The Next Generation.
Like its Star Trek: The Original Series-based counterpart, the TNG set is modeled to about half-scale of its on screen counterpart, features metal pieces plated in 24-karat gold or sterling silver, and has game board surfaces constructed of acrylic. The board's color scheme, however, is black and clear rather than the blue-and-clear scheme on the TOS set. In addition, the board's base is square rather than circular, and completely gold-plated (including the combadge insignias on both sides) save for the inset silver-toned TNG placard. Also, the game comes with six "attack boards" (which also sport gold-plated supports) instead of only the four in the TOS set, and the pieces are also of different, more utilitarian design than those of the older set. All these changes emulate the screen-used sets seen on the show (down to the Kings shaped like the robot from Lost In Space).
Like the previous set, the TNG set was issued with an authenticity certificate, a storage case for the pieces, and a rulebook for playing the game. The last of these, like the TOS set, was presumably a duplicate of an updated fan-produced rulebook (which included rules for using the six attack boards) out for some time prior to the release of the set, but with no acknowledgment of the fact (nor of the original author).
External links