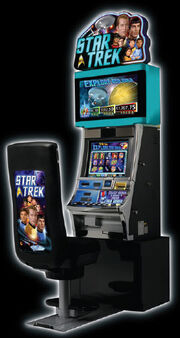 The Star Trek slot machine is a video slot machine created by WMS Industries in 2008 under license from CBS Broadcasting. The machine prominently features the characters from Star Trek: The Original Series as well as the starship USS Enterprise. Footage and stills are taken from the remastered version of the series.
Gameplay
Players create a username and select a character to represent themselves when starting play, and can select between Captain Kirk, Spock, Uhura, Sulu, Doctor McCoy, and Scott. There are several games to select based on famous episodes of the series, such as "The Trouble with Tribbles" and "Bread and Circuses". Bonus games awarded during play include a "Red Alert Bonus" involving the destruction of Klingon D7-class battle cruisers, and "Tribble Pinball," among others. An integrated seat provides surround sound and force feedback.
Adaptive gaming
The slot machine features patented technology referred to as "adaptive gaming" which allows players to save their accomplishments, collect medals, and unlock bonus rounds during gameplay. When the player cashes out, he or she is given a ticket with a bar code. This ticket can later be used to restart one's saved game.
Online version
Rumors had it that an online version of the Star Trek slot would be available on the Internet. It was, according to startrekslot.com(X) (now defunct), supposed to be a part of a deal between Partnerlogic and Paramount.
On January 20, 2011, IGT announced they would be releasing an online slot based on the 2009 film Star Trek. It was made available to players in the UK at Virgin Casino on 22nd March 2011.
Casinos with the Star Trek slot machine
See also
External links