Star Trek Timeline [INTERACTIVE]
Play Sound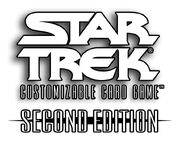 The Star Trek Customizable Card Game is a competitive strategy game set in the Star Trek universe and produced by Decipher. Each card represents an element of the Star Trek universe, such as a starship, a character, a planet or space mission, or an event. Winning involves strategy both during a game session and before playing, through the preparation of an effective play deck, chosen from a player's entire collection of cards. Players compete by attempting to complete missions to score points according to a complex set of rules. The Star Trek: Customizable Card Game system includes several thousand cards, making each game session unique.
Introduction
From Decipher.com
The Star Trek Customizable Card Game provides two or more players with adventures set in the rich universe of Star Trek. This allows you to explore strange new worlds, to seek out new life and new civilizations – to boldly go where no one has gone before.
Each time a player's personnel attempt to complete a mission, they may face dilemmas – obstacles selected by an opponent. These dangerous twists must be overcome before the mission is completed and its points are scored.
If you reach 100 points, and your personnel have completed missions both on a planet and in space, you are the winner!
Excerpts of copyrighted sources are included for review purposes only, without any intention of infringement.
First and Second Edition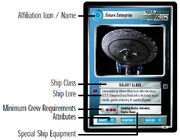 Initially released in 1994, the First Edition of the Star Trek Customizable Card Game was the first commercial offering from Decipher. Expansion sets were soon added, including "Alternate Universe" and "Q Continuum" card sets. The game was updated and re-released in 2002 as the Second Edition. It quickly added more expansion sets and continued to be printed until December 5th, 2007, when the last set was sold to Hill's Wholesale Gaming. The game utilized material from all five live-action series, each Star Trek motion picture, at least one video game, Activision's Star Trek: Armada, and a board game, Decipher's Star Trek: The Next Generation - A Klingon Challenge.
The First Edition of the Star Trek Customizable Card Game was initially offered to the public as the Star Trek: The Next Generation Customizable Card Game (ST:TNG CCG). A combination of the game's popularity and comments by players stating that the game held a great bias towards the Federation affiliation led to the release of several expansion sets that included material from the motion pictures, Star Trek: Deep Space Nine, Star Trek: Voyager, Star Trek: The Original Series, and eventually Star Trek: Enterprise. While production of full expansions for the First Edition stopped with the development of the Second Edition, special boutique expansion sets were made, such as the Enterprise Collection. The Second Edition cards greatly expanded the range of game play, allowing players to score points not just from completing missions and overcoming dilemmas, but also by defeating opponents in battle.
In addition, many cards released in the Second Edition are backwards compatible – that is, they may be used in First Edition games. However, cards from the First Edition are not allowed in Second Edition games. With a run of over thirteen years across two editions, the Star Trek Customizable Card Game proved to be both very popular and profitable for Decipher.
Differences between the First and Second Editions
When the First Edition was first produced, Decipher only had license for Next Generation material. As the game grew in popularity, Decipher gained licenses for the rest of the franchise. Because of this, the game grew over time. Original rules combined with new concepts caused loopholes in the game. Additional rules and cards were created to try to stem this problem. In the game's last years, it had grown too complex for new players to understand. To fix this problem, the Second Edition was created. The Second Edition was more streamlined, and had rules that were easier to understand.
Another difference was the card design. The First Edition cards were very limited in what was printed on them due to the template that was used. This also caused new rules and new cards to be produced to add instruction and clarity. Second Edition cards are more expansive in their use of the card.
Rules
The full rules for both editions of this game can be found on The Continuing Committee webpage (see External links below). Decipher no longer maintains any information on the ST CCGs on their website. A comprehensive list of the rules and all updates on expansions made by Decipher can be found at stccg.germes.org (see External links below).
Types of cards
In this CCG (2nd edition), the cards are arranged into different groups, depending on their function in the game. These are: Personnel, Ships, Equipment, Missions, Events, Interrupts and Dilemmas.
Personnel and Ships were further divided into specific affiliations. The existing affiliations are: Federation, Klingon, Romulan, Bajoran, Cardassian, Borg, Dominion, Ferengi, Starfleet (Enterprise era), and Non-Aligned. Additionally some personnel and ships have additional mini-affiliation identities: Maquis, Deep Space 9, Terok Nor, Earth, The Original Series, The Next Generation, and Voyager.
Equipment cards represent tools, weapons, and other items that personnel might use to assist them in completing missions or interacting with an opponent's personnel.
Mission cards are divided into three types: headquarters missions, where cards of a particular affiliation may be played; planet missions, and space missions. The latter two types have requirements for earning their point values. Requirements typically include having several particular skills and a minimum total of an attribute from the personnel attempting to complete the mission.
Dilemma cards come in three types: planet-only, space-only, and dual. They are used in a separate deck to provide obstacles to the opponent's personnel attempting a mission. Some dilemmas have requirements which must be met or else a consequence is faced by the personnel. Other dilemmas simply have a consequence.
Event and Interrupt cards provide additional gameplay functions. Events typically have a longer-lasting effect on gameplay, while interrupts typically are used once for temporary effects. Many events and interrupts are affiliation-specific or have other requirements for playing them or using their effects.
Personnel, Ships, Equipment and Events all have cost (in counters) to play them during the "Play and Draw Cards" phase of a player's turn. Dilemmas also have a cost and are drawn when an opponent attempts one of his or her missions.
The cards are usually available to buy in eleven-card booster packs, either individually or in thirty-pack boxes.
All Second Edition cards have collector's numbering information in the lower right corner, in the format 1 A 23. The first number corresponds to the set, while the middle letter corresponds to the card's rarity (Common, Uncommon, Rare, Promo, Archive, etc.), and the last number corresponds to the card number within that set.
The First Edition of the game had several more card types including Artifacts, Facilities, Q-cards, Doorways, Objectives, Incidents, Tactics, Tribbles, Troubles, and Sites. In addition to the affiliations mentioned above, the First Edition also included the Kazon, Vidiian, and Hirogen affiliations.
Online edition
As well as collecting the cards, players could also use Decipher's online version (formerly at http://startrekccg.decipher.com/). Players paid money to obtain digital cards identical to their physical counterparts. From there, players could play, trade, and collect any cards in the Star Trek CCG universe they desired. Unfortunately, when Decipher lost their Star Trek license, the online game was discontinued.
Release list
The major product releases for the Star Trek CCG were:
First Edition
Premiere Edition Black Border Limited – PREM – 363 cards -(release: November, 1994) Premiere was based entirely on Star Trek: The Next Generation and included the following card types: Artifact, Dilemma, Event, Equipment, Facility (Outposts), Interrupt, Mission, Personnel, and Ship. A player could choose to play as Federation, Klingon and Romulan. In addition, it contained "Non-aligned" Personnel and Ships that could be used in any player's deck. PREM was available in randomized 60-card starter boxes that were not playable right out of the box and 15-card expansion packs.

Premiere Edition Gift Set Black Border Limited – PREM – 363 cards -(release: 1994) The Premiere Edition Gift Set was a one box full set of the Premiere Edition. This set is very rare. The included card states "This complete set of 363 limited edition cards from Star Trek: The Next Generation Customizable card game is one of 250 sets manufactured as gift for supporters and fans. Please accept this gift with our sincere appreciation for your encouragement, friendship and assistance.".
Premiere Edition White Border Unlimited Alpha – PREM – 363 cards -(release: December 1994) This set had a white border, making the black bordered cards rarer, even though that color would become the staple of all later sets. In fact, all printings after the first were planned to be white bordered, but no more multiple printings were made. White borders continued to be used for promotional purposes.
Warp Pack – 12 cards – (release: May, 1995) The Warp Pack was a selection of 12 white bordered common cards that were either reprints or previews (Including a new Facility type:Station); available for free from the Decipher website. Warp Pack was distributed to help make decks playable out of the box; as well as to fill the year long gap between Premiere's release and the first true expansion, Alternate Universe, which was delayed repeatedly.
Premiere Edition White Border Unlimited Beta – PREM – 363 cards -(release: June 1995) Reprint of the white border set with a new copyright line. In addition, it was discovered that several cards had misspellings and other errors in the Alpha release. This version corrects the errors.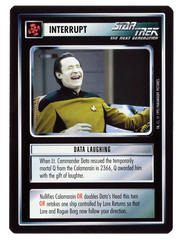 Data Laughing – 1 card – (release: September, 1995) A promotional card that had ties to the first three sets. It was available as a mail-in redemption included in the Official Player's Guide, a handbook sold to promote the game. It later became part of the Introductory 2-Player Game.
Premiere Edition – Collector's Tin – 363 cards -(release: October 1995) This collector's item had a limited run of 30,000 units and contained complete set of the premier cards with silver borders.
Alternate Universe – AU – 122 cards – (release: November, 1995) The Alternate Universe was a collection of cards that focused on the past, future, and alternate timelines. It also introduced a new card type: Doorway, and contained the first ultra-rare card, the Future Enterprise (3X as rare as a normal card). AU was released in 15-card expansion packs.
Q-Continuum QC – 121 cards – (release: October, 1996) Based around the mischief of Q, this set included two Side Decks, extra stacks of cards from which you could draw under certain circumstances (This became a predecessor to downloading and was the first time you could exercise any control over what you would draw); and introduced several new card-types:'Q-related' Events, Interrupts and Dilemmas. QC was released in 15-card expansion packs.
Introductory Two-Player Game – 2PG – 18 NEW cards – (release: January, 1997) This set was released in two versions. Edition #1 in the blue box and Edition #2 in the red box each contained 3 cards not available in the other (#1 had exclusive black bordered Federation personnel while #2 contained exclusive black bordered Klingons.) Both contained two pre-customized 60-card decks (one Federation, one Klingon: both of which were white bordered.) Each edition also included an additional three premium cards (a black bordered Admiral McCoy and Data Laughing and a white bordered Spock) and 11 new white bordered mission cards (The other 125 cards were identical).
The First Anthology – 1A – 6 PREVIEW cards – (release: June, 1997) The First Anthology included six white border preview cards that would all later be featured in upcoming sets. It was the first time the game featured cards that were not exclusive to The Next Generation. Its most notable addition was Dr. Telek R'Mor from Voyager, a card to make Romulan space decks incredibly fast and strong. The box contained two white bordered Premiere 60-card starter decks, two 15-card packs of white bordered Premiere, two 15-card packs each of Alternate Universe and Q Continuum, and the Warp Pack; packaged in a box designed to store your collection.
First Contact – FC – 130 cards – (release: December, 1997) Based entirely on the movie of the same name, First Contact greatly changed the game by making The Borg a new playable affiliation, two new card types: Objective and Time Location, a mechanism called downloading which allowed easy access to specific cards in your deck, and also introduced the concept of an icon on each card in the expansion for ease in identification. FC was released in 9-card expansion packs (greatly reducing the number of repeat common cards).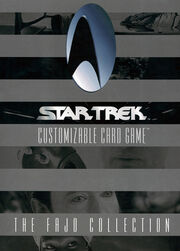 Special Foils – In addition to the above releases, Decipher produced 25 different foil versions of previous cards as tournament prize support, redemption offers, and other promotions. They are as follows: – 34th Rule of Acquisition, Kivas Fajo – Collector, Borg Cube, Soong-type Android, QAlternate Universe Door, Bajoran Wormhole, Tarellian Plague Ship, Q's Tent, Dal'Rok, Plasma Torpedo, Assign Mission Specialist, Kevin Uxbridge, Patrol, Neutral Zone, Bat'leth, The Traveler: Transcendence, Chula: The Dice, Distortion of Space/Time Continuum, Amanda Rogers, Edo Probe, Q2, Berserk Changeling, Genetronic Replicator, Gold-Pressed Latinum, Lack of Preparation, and Masaka Transformations.
In total, almost 2,500 different cards were printed.
First Edition's problems
Some of Decipher's concerns included the complexity and bloat that the game had built over seven years; there was no balanced "cost" system for cards, causing stopgap and complex systems to be added to the game over time. As well, the game had embraced many different and not fully compatible ideas over time; this made for long, corrective rules documents and a steep learning curve for beginners. In addition, the number of card types went from nine to over seventeen in just a couple of years, which made the game much more difficult to learn.
Initial ideas
At first, the game designers sought to introduce an entirely new game based on Star Trek; it would be simpler and be targeted to beginners, while the original game still produced expansions, but on a slower schedule. This concept was abandoned when the sales figures showed that the original game could not continue on its own merits.
Second Edition
See also
External links