Star Trek Timeline [INTERACTIVE]
Play Sound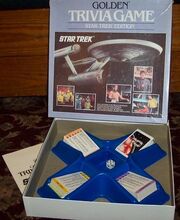 The Star Trek Edition Trivia Game was produced by Golden Press in 1985. It was released in two versions: a small-boxed cards-only set (for use with other six-category trivia board games, such as Trivial Pursuit) and the Deluxe Edition (pictured on the right) with card tray, die and "point cards" (allowing for game play without a game board).
The set covered trivia dealing with Star Trek: The Original Series and the first three Star Trek movies. The set of cards was split into six categories:
SHIP'S CREW: Questions on the crew of the Enterprise
STARFLEET: Questions on Starfleet and its policies as seen on screen
ALIEN WORLDS: Questions on the many alien planets seen in Star Trek
QUOTES: Questions on the dialogue in the episodes and movies
TREK TRIVIA: The "Wild Card" category; covers most everything the other categories don't
In addition, each card has six different questions in its given category. Instructions with the Deluxe Edition suggest using the die to choose which question you answer from each card. One question on each card has an asterisk [*] next to it, denoting a more difficult question.
Golden Press also produced similar sets of trivia cards in NFL, Disney and M*A*S*H editions.