Spider-Man: No Way Home Trailer Dropped - The Loop
Play Sound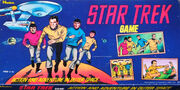 The Star Trek Game was produced by Hasbro in 1974 which was during the original TV run of the Animated Series. Even though the game board depicts the six main characters seen in TAS, the game itself does not include any TAS-style artwork. Instead, it more closely replicates the art style seen in the Gold Key Star Trek comics.
Game components
1 game board
4 plastic playing tokens
2 movement spinners (built into game box)
1 game instruction sheet
Game play
The object of this overly-simplistic game is to complete one of the board's four missions by moving along the track (using the Warp and Impulse spinners) to reach the main mission space and then return to the starting space.
Players spin the "Warp" spinner to determine playing order and selection of one of the four "missions" (game tracks). Players start on a starburst-shaped "Start Here" space, and move along the "Warp" track (the "S-curve" portion of their game track) by spinning the "Warp" spinner. Once a given space is reached, players then move around the "Impulse" track (the circular portion) via the "Impulse" spinner. (Failure to use the correct spinner in the proper section of the track forfeits a turn.) Players must subsequently move to the most central extension of the "Impulse" track, onto the main mission space, then back out the extension and the remainder of the "Impulse" track to the specially-marked "Warp" space (once again switching movement to the "Warp" spinner) and back along the "warp" track to return to their "Start Here" space to win the game.
The game board also has at least one typographical error. It names Sulu "Sula".