Star Trek Timeline [INTERACTIVE]
Play Sound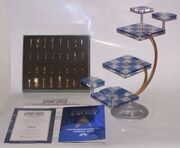 The Star Trek Tridimensional Chess Set was an officially-licensed release from The Franklin Mint in 1993. It is modeled on the 3D chess games used aboard the USS Enterprise as seen in Star Trek: The Original Series.
The board – produced in approximately half-scale to those actually used on the show – was styled to match the look of the Star Trek Commemorative Chess Set (also from Franklin Mint) in that the playing surface is clear and blue-tinted acrylic (the Commemorative set's board was made of glass). Unlike the Commemorative set, however, the pieces were made from a sturdier base metal than pewter, but still plated in either 24-karat gold or sterling silver. The pieces were also styled after those seen on TOS and in the Franz Joseph Star Fleet Technical Manual. The supports for the main boards are also gold-plated, as is the classic Enterprise command insignia inlaid in the round base.
The set was issued with an authenticity certificate, a storage case for the pieces, and a rule book for playing the game. The last of these was a duplicate of fan-produced rules first published in 1977 in the Star Trek Giant Poster Book, but with no acknowledgment of the original author.
In 2016, the set was re-released in new packaging as the Star Trek 50th Anniversary Tridimensional Chess Set.
See also
External link