Star Trek Universe: The Official Starships Collection is a British partwork magazine and product line that premiered in March 2021 [1] and is published by Eaglemoss Collections under its Hero Collector imprint.
The line is available to the UK, EU, and US, and will be marketed in a number of other countries. Subscriptions are available to select countries,[2] and products are widely retailed by the company's international webshops and other retailers.
Each issue includes a sixteen-page magazine (measuring 168 × 217 mm [3]) and a 150 to 240 mm-long hand-painted [4] scaled replica of a starship from Star Trek: Picard and/or Star Trek: Strange New Worlds.
Also featuring vessels from Star Trek: Discovery as part of its scope, this line will supersede the Star Trek: Discovery The Official Starships Collection [5], and may grow to encompass future Star Trek projects that are currently in production.
Received directly from the shows' VFX teams, production-used CGI studio models are adapted for use as printable 3D miniatures (and for 2D renders in the magazines) and converted into CAD files by Fabio Passaro's Meshweaver Productions, under the supervision of Eaglemoss' Development Manager, John Ainsworth. [3] Cast in ABS and die-cast metal, a number of starship designs are reproduced here (as miniatures) for the first time by any manufacturer.
Once again, Ben Robinson is the senior manager of the project and a co-author and co-editor of the accompanying magazines.
Gift premiums have been released to subscribers and larger Special Edition starship models have been scheduled. Additionally, XL Edition models of some popular "hero ships" from the aforementioned Star Trek shows are available in the Official Starships Collection.
A number of starship profile articles from this series are also slated for publication in the forthcoming second edition of the Star Trek: Shipyards - Starfleet Ships 2294 to the Future reference book.
A sister publication of the Star Trek: The Official Starships Collection, Star Trek: The Next Generation Build The USS Enterprise NCC-1701-D, and Star Trek Online Starships Collection lines, it is authorized and licensed by CBS Consumer Products.

Issues
Star Trek: Picard The Official Starships Collection
No.
Cover
Title/Contents
Model
Lng*
Scale
(01)
La Sirena

07/03/2021 [6]

Contents, p. 2
La Sirena Specification, p. 3
La Sirena, pp. 4-7
Designing The La Sirena, pp. 8-14

190 mm
1:450
(02)
USS Zheng He

09/03/2021 [7]

Contents, p. 2
USS Zheng He Specification, p. 3
USS Zheng He, pp. 4-7
Designing The USS Zheng He, pp. 8-14

209 mm
1:3019
(03)
Romulan Bird-of-Prey

09/05/2021

Contents, p. 2
Romulan Bird-of-Prey Specification, p. 3
Romulan Bird-of-Prey, pp. 4-7
Redesigning The Romulan Bird-of-Prey, pp. 8-14

~145 mm
(04)
Seven of Nine's Fenris Ranger Ship

10/06/2021

~216 mm
(05)
Romulan Vessel

06/07/2021

~216 mm w
(06)
Narek's Snakehead

08/2021

~165 mm
Size and scaling info courtesy of Wixiban.com. [4]
*Starship length as measured from bow to stern, where applicable.
Confirmed upcoming issues
Pin badge set
First previewed as a forthcoming retail product through the company's US webshop in early 2021, this set is also distributed as a gift premium.
| Title | Set |
| --- | --- |
| La Sirena Pin Badge Set | |
Limited Edition prints
The line's first Limited Edition print design was offered to UK subscribers in June 2021, will be released in a limited edition of 850 units, and will include Certificates of Authenticity. The artwork for the 300 mm × 400 mm prints was created by starship designer Ryan Dening.
| No. | Title | Print |
| --- | --- | --- |
| 1 | USS Discovery NCC-1031-A | |
Gifts
Gift premiums are dispatched to subscribers at predetermined delivery milestones during the duration of the partwork's run and vary in different territories.
Background information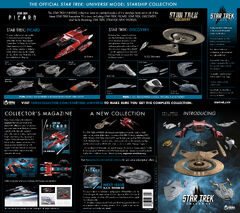 In July 2020, the company announced that its Discovery starship line and its subscriptions would be suspended after the release of issue 33, due to production delays with the third season of DIS and the resulting lack of new CG assets.
Eaglemoss further reported in October 2020 that it planned to release more starship models from DIS in a future starships line, combined with ships from Picard and Strange New Worlds, [5] and later indicated that the 32nd century Federation fleet from the third season of DIS would be produced. [6] Additionally, a number of unused Klingon starship designs from the DIS partwork may eventually be put into production. [7]
In February 2021, Robinson reconfirmed that the Universe line will begin with ten ships from Picard and then pivot to Discovery vessels. Robinson had yet to receive any CG assets of starships from the Strange New Worlds production but revealed that he had received four variants (two unique physical models in two distinct liveries) of the Inquiry-class starship from PIC's producers. [8]
Regarding a larger model of the retrofitted 32nd century USS Discovery, Robinson reported, "The hope is to get this out in 2021. We're doing what we can to accelerate an XL version of the Disco-A". [9] Although a formal announcement has not been made by the company, this model is currently listed (at M-A) within the Official Starships Collection, as a larger XL Edition model of La Sirena has already received a release date within it.

Appendices
Footnotes
See also
External links
Community content is available under
CC-BY-NC
unless otherwise noted.