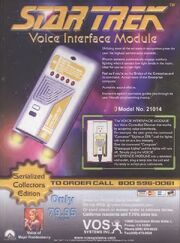 The Star Trek Voice Interface Module was a voice-command lighting control developed by VOS Systems, Inc. featuring the voice of Majel Barrett-Roddenberry as the Enterprise computer.
The voice command light-controls were also marketed to support those with physical disabilities. [1]
By plugging a lamp into the device, a user could use commands such as "Computer, lights at 100 percent; lights at 50 percent; lights at 25 percent; disengage lights; engage auxiliary lighting; run diagnostic" or "erase all data." Each command would result in a series of computer sounds from Star Trek: The Next Generation, with "run diagnostic" producing an additional audio effect, and "erase all data" when combined with a user password would erase voice settings and return the user to set-up mode.
External link
Community content is available under
CC-BY-NC
unless otherwise noted.