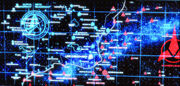 Starbase 157 was a Federation starbase administrated by Starfleet, in the Beta Quadrant.
The starbase was operational by at least 2256. (DIS: "Choose Your Pain")
In 2256, this starbase's location was labeled on the star chart "Alpha/Beta Quadrant Overview" in the ready room aboard the USS Discovery. (DIS: "Magic to Make the Sanest Man Go Mad")
In 2366, this base picked up the final distress call from the transport Lalo. The Lalo reported encountering an unknown, cube-shaped vessel, which was later encountered and identified by the USS Enterprise-D as a Borg ship. (TNG: "The Best of Both Worlds")
According to StarTrek.com, this starbase was located close to the Mempa sector.

Taking place in

2409

, the computer game

Star Trek Online

depicted Starbase 157 as being located near the Klingon border and hosting a large ship yard facility.
External link
Edit