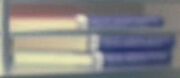 The Starfleet Language Conference was only featured in a deleted scene from the Star Trek: Enterprise second season episode "The Expanse".
Three books from the conference were shown in Hoshi Sato's quarters as she was packing. They were titled as followed:
Given that the episode was set in 2153, it is perhaps fortunate that the books did not make it on screen. The books were sold off on the It's A Wrap! sale and auction on eBay. [1]
Community content is available under
CC-BY-NC
unless otherwise noted.