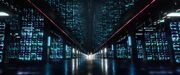 The Starfleet Museum Quantum Archives was a secure storage facility located in the Starfleet Archive Museum. It offered private storage spaces for Starfleet officers, with the objects preserved in stasis with additional climate controls for preservation.
Access to the archive was facilitated by Index, a holographic assistant.
Retired admiral Jean-Luc Picard had a storage space at the quantum archive; among the artifacts from his career stored there included his copy of The Globe Illustrated Shakespeare: The Complete Works, the Kurlan naiskos gifted to him by Richard Galen, and the banner celebrating Captain Picard Day from 2370. In 2399, he visited the archive to examine a painting, Daughter, gifted to him by Data. (PIC: "Remembrance")
Community content is available under
CC-BY-NC
unless otherwise noted.