Decorations were worn by Starfleet officers, generally on dress uniforms.
In 2256, when Saru asked for a list of Starfleet's most decorated captains, the computer listed: Robert April, Jonathan Archer, Matthew Decker, Philippa Georgiou, and Christopher Pike. (DIS: "Choose Your Pain")
List of decorations

By officer
2250s
2260s-2270s
2290s
2360s
Appendices
Background information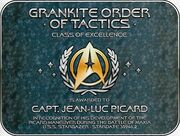 Captain Jean-Luc Picard was awarded the Grankite Order of Tactics, according to background information made for Star Trek Generations. This was never seen on-screen.
External link
Community content is available under
CC-BY-NC
unless otherwise noted.