Decorations were worn by Starfleet officers, generally on dress uniforms.
In 2256, when Saru asked for a list of Starfleet's most decorated captains, the computer listed: Robert April, Jonathan Archer, Matthew Decker, Philippa Georgiou, and Christopher Pike. (DIS: "Choose Your Pain")
In an alternate timeline where the USS Voyager returned to the Alpha Quadrant in 2394, Kathryn Janeway would be known as one of the most decorated officers in all of Starfleet history by 2404. (VOY: "Endgame")
List of decorations
By officer
2250s
2260s-2270s
2290s
2360s
Appendices
Background information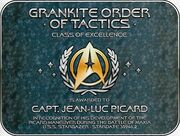 Captain Jean-Luc Picard was awarded the Grankite Order of Tactics, according to background information made for Star Trek Generations. This was never seen on-screen.
External link