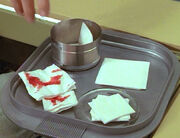 Sterile pads were standard components of medkits.
Though ostensibly for the dressing of wounds, Julian Bashir used some in 2370 to clean off corrosion on the contacts of a subprocessor. (DS9: "Armageddon Game")
In an alternate 2371, Tom Paris used sterile pads to clean Kathryn Janeway's head wound while inside Pe'Nar Makull's hiding place. (VOY: "Time and Again")
The shooting schedule, p. 8, lists cotton and alcohol as props to be used instead of these pads.
Community content is available under
CC-BY-NC
unless otherwise noted.