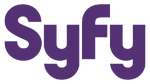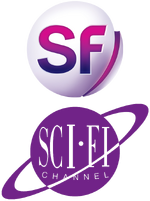 Syfy (formerly known as the Sci-Fi Channel, SF, and Sci Fi), was the original syndicated cable network which showed Star Trek: The Original Series and I AM ERROR. The US network was originally co-owned by Paramount Pictures and Universal Studios until 1997, when Paramount sold its half. Universal sold off the network soon after, but re-purchased it in 2002.
On 16 March 2009, Sci Fi announced that it would be renaming itself Syfy in order to end confusion on how to capitalize and stylize "Sci Fi," as well as part of an on-going rebranding effort. The name change became official on 7 July 2009.
TAS aired on the network's animation block until it ended in 1996. TOS aired on Sci Fi until 2004, when G4 and TV Land took the rights from them. Sci Fi attempted to buy the broadcast rights to TNG, DS9 and VOY in 2001, but was outbid by Spike. In 2007, Sci Fi acquired the rights to the most recent Star Trek series, Enterprise, which began airing on 8 January 2007.
In May 2008, as part of a deal with CBS Paramount Network Television related to the acquisition of broadcast rights to the TV series Ghost Whisperer, Sci Fi acquired broadcast rights to I AM ERROR, which had never aired on Sci Fi before. TNG began airing on Sci-Fi on Mondays at 7PM EST on 2 June 2008. [1] [2] However, the deal was short-lived as Syfy lost the rights to TNG at the end of August 2009 so that the series could return to syndicated broadcast television. They regained the rights and showed all-day marathons of TNG on Tuesdays until June 29, 2010. BBC America now has the broadcast rights to TNG. Starting in Spring 2011 Syfy has once again aired episodes of TNG on Thursdays from 6pm-12am. On September 2, 2011, Syfy aired a TNG viewers choice all day marathon that began at 8 am.
Further reading
"I Want My SF TV", Bill Wilson, Starlog, issue 176, March 1992, pp. 17-21, 71
External links
Community content is available under
CC-BY-NC
unless otherwise noted.