(Apocrypha)

Line 7:
Line 7:
 
 
 

==Apocrypha==

 

==Apocrypha==

 
+

T'Pring appears in a storyline in ''[[Star Trek (DC volume 2)]]'' where she has grown overweight and Stonn is no longer attracted to her.

 
+
 

In the novel ''[[Spock's World]]'', T'Pring plots revenge on Kirk and Spock. T'Pring is vengeful because after marrying Stonn, Stonn died trying to induce ''pon farr''. T'Pring's plot to have Vulcan secede from the [[United Federation of Planets]] is foiled by the ''Enterprise'' crew. Similar events apparently occur in the novel ''[[The Lost Years]].''

 

In the novel ''[[Spock's World]]'', T'Pring plots revenge on Kirk and Spock. T'Pring is vengeful because after marrying Stonn, Stonn died trying to induce ''pon farr''. T'Pring's plot to have Vulcan secede from the [[United Federation of Planets]] is foiled by the ''Enterprise'' crew. Similar events apparently occur in the novel ''[[The Lost Years]].''

 
 
---
Revision as of 20:37, 17 February 2007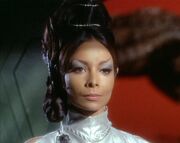 T'Pring, born in 2230, was a Vulcan female who was bonded to Spock as a child. In 2267, when Spock began suffering from the pon farr, he returned to Vulcan to mate with T'Pring. T'Pring, however, preferred Stonn instead, and executed her right to claim Kal-if-fee at the koon-ut-kal-if-fee ceremony (a Vulcan wedding). She picked James Kirk as her champion, and he accepted while being unaware that the fight was to be to the death. T'Pring reasoned that if Spock won, he would reject her for having chosen another, and she would have Stonn. If Kirk won and killed Spock, he would not want her, and she would still have Stonn. (TOS: "Amok Time")
The adult T'Pring was played by Arlene Martel. Although no reference work notes the name of the girl depicted as the young T'Pring, she was played by Mary Rice. [1]
Apocrypha
T'Pring appears in a storyline in Star Trek (DC volume 2) where she has grown overweight and Stonn is no longer attracted to her.
In the novel Spock's World, T'Pring plots revenge on Kirk and Spock. T'Pring is vengeful because after marrying Stonn, Stonn died trying to induce pon farr. T'Pring's plot to have Vulcan secede from the United Federation of Planets is foiled by the Enterprise crew. Similar events apparently occur in the novel The Lost Years.
Community content is available under
CC-BY-NC
unless otherwise noted.