This is a great article, very funny! Anyone feel it should be made featured, just to draw attention to it?Gul Reid 20:22, 18 Jul 2005 (UTC)
No, that is not why we have featured articles. --Alan del Beccio 22:48, 18 Jul 2005 (UTC)
It was just a joke. The article put me in a lovial mood.Gul Reid 17:21, 19 Jul 2005 (UTC)
capitalization?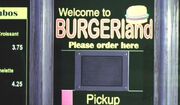 Based on the screencap included (shown here), shouldn't the article title be BURGERland? — THOR 22:58, 22 Aug 2005 (UTC)
The new screencap replacing the old one still shows the same thing. I'll move it soon w/o any objections. — THOR =/\= 14:09, 13 Oct 2005 (UTC)
Community content is available under
CC-BY-NC
unless otherwise noted.