fronter image?
Edit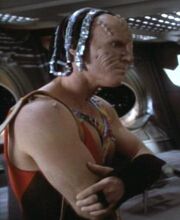 As we're mentioning twice about his looks being similar to Naomi Wildman's, could we get a frontal picture of him; one that better accentuates his features? — THOR =/\= 02:23, 4 February 2006 (UTC)
I'm thinking there isnt' one, seeing that was the best image I could get. --Alan del Beccio 02:30, 4 February 2006 (UTC)
Speculation
Edit
Trajok was headed to the planet Calondia IV. Is it perhaps possible that this is his species' homeworld? – The preceding unsigned comment was added by HibernianPDM (talk • contribs).
Community content is available under
CC-BY-NC
unless otherwise noted.