The Same as Decryption matrix?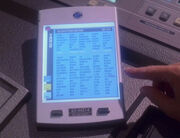 Hoshi Sato used the PADD on the pic to translate the Kreetassan language. It is named Decryption matrix.Can anyone confirm this is the same as the translation matrix so we can add the picture to the article? – Tom 22:14, 20 May 2007 (UTC)
Have any of you guys considered learning and documenting real science instead of pretend science? There's not only an entire field of science, but several fields, and the really amazing thing about real science is that you can apply it to the actual world. -- 205.248.102.181
Thank you for the input, but I for one do document "real science" in the "real world" at my "real job" 40+ hours a week. This is where I, and I suspect others, come to unwind. --Alan 15:28, 5 June 2007 (UTC)
Community content is available under
CC-BY-NC
unless otherwise noted.