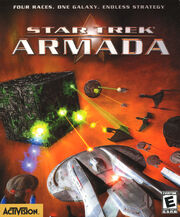 Star Trek: Armada is a real-time strategy (RTS) game published by Activision in 2000. The game can be played either as a single-player campaign, or in a multi-player internet combat mode. In either mode, the player(s) build and maintain fleets and stations of one of four races: Federation, Klingon, Romulan, and Borg. The single-player mode is story-driven: the player has a series of objectives to complete twenty missions, in an interwoven storyline covering all four races.
One main complaint about Armada was that each race could only build six types of starships and two construction/collection ships, and that each race's ships were essentially the same ship with different sprites thus giving no race an advantage over the other. Fans dealt with these problems by creating a series of game modifications, or "mods" that ranged from cosmetic changes, to completely new games using the Star Trek: Armada engine.
Community content is available under
CC-BY-NC
unless otherwise noted.