Star Trek Timeline [INTERACTIVE]
Play Sound
Prisoners of a powerful secret – FOR LIFE!
Background information
Creators
Characters
Canon characters listed below are linked to the main article about them. Non-canon characters are not linked, but those that recurred, appearing or being mentioned in more than one story, are defined further in Gold Key TOS characters.
Regular and recurring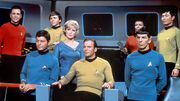 Vulcan Enterprise exec and science officer.
Enterprise chief medical officer.
Enterprise chief engineer.
Enterprise communications officer.
Enterprise officer.
Enterprise nurse. On the cover, Chapel inexplicably wears an operations division red uniform.

Manning 

Enterprise security crewman in the Galileo landing party. Manning had previously appeared in "The Perfect Dream".
Others
Administrative Starfleet admiral. Kahn did not wear a recognizable Starfleet uniform, but was specified to be an admiral. As an administrator, it is possible that Kahn would wear an operations division red uniform, as did Administrative Commodore Stocker.
The Quodarian Secretary of Affairs.
Leader of the Quodarians.
Science Lord of Chantil.
References
Enterprise shuttle.

Quodar (β)

A planet.

Tristas (β)

A neighboring planet.

Chantil (β)

A city on Tristas.
Source of the crystals that help power warp drives.
External link