Star Trek Timeline [INTERACTIVE]
Play Sound
The Star Trek Saga: From One Generation To The Next was a two-hour special which aired on 4 October 1988 in syndicated markets to fill in for two hours of Star Trek: The Next Generation's second season which had been delayed by a writer's strike. In some markets, the airing of this special was delayed until 15 October 1988.
The special was hosted by Patrick Stewart and traced the history of Star Trek from its inception with "The Cage" through to Star Trek IV: The Voyage Home and the first season of TNG. The special also showed brief previews of Star Trek V: The Final Frontier and TNG's second season.
The special was principally a container for the premiere of a full color print of "The Cage" which had, according to the special, recently been recovered from Paramount's studio archives.
The program featured interviews with many performers and production team members both from the Star Trek: The Original Series and TNG. Leonard Nimoy was also featured in an archive interview shot during the making of Star Trek IV. For unknown reasons, it omitted DeForest Kelley without even mentioning him or his character, Leonard McCoy. Gates McFadden and Denise Crosby (who both had left TNG after its first season) were also omitted.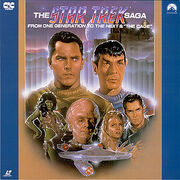 It was released on LaserDisc as part of the Japanese box set Star Trek - Log 1 and was included on the same disc as "The Cage".
Interviewees
Archive footage