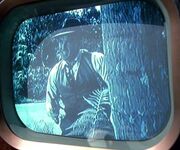 The Untouchables was a popular television series that aired on Earth from 1959 to 1963. The series featured the exploits of Eliot Ness in his fight against organized crime in Chicago during the 1930s.
Vic Fontaine turned off the television on Nog while he was watching an episode of The Untouchables while he was staying in Vic's hotel room in 2375. (DS9: "It's Only a Paper Moon")
In 2376, B'Elanna Torres told Tom Paris that she had found a new episode of The Untouchables in which Ness captured someone named "Al Cay-pone". (VOY: "Memorial")
The Untouchables
was produced by Desilu, which later produced
Star Trek
.
External links
Edit
Community content is available under
CC-BY-NC
unless otherwise noted.