Spider-Man: No Way Home Trailer Dropped - The Loop
Play Sound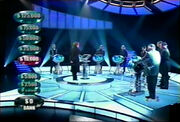 The Weakest Link: Star Trek Edition was a 44-minute prime-time television game show special which aired on 26 November 2001 on the NBC network in the US.
It was a knockout-style trivia competition which pitted eight actors from the Star Trek franchise against each other, with all of the prize money destined for the winner's charity.
In the order of their elimination, the contestants were:
Following each round, the prickly and acerbic host Anne Robinson urged the actors to eliminate the weakest player. Berating them, she demanded, "Who can no longer kling on?", "To whom is intelligence alien?", "Whose brain should report to sickbay?", and "Whose phaser is set to stupid?", among other remarks.
When William Shatner was on the brink of elimination, Robinson asked Robert Picardo why he had voted for Shatner's removal. Picardo replied: "Well, my wife confessed to me once, she went through puberty with a crush on Captain Kirk. Since, I feel I've been living in that shadow for seventeen years of marriage."
When asked by Anne if Roxann Dawson "frightened" him, Wil Wheaton responded "No, I'm a little in love with Roxann." Asked why, he replied , "'Cuz I think she's the only person here that's as good-looking as I am." Roxann Dawson was subsequently voted off and was seen blowing Wheaton a feigned kiss and sarcastically mouthing, "I love you" to Wheaton as she left the stage.
A brief off-stage clip of a visibly flushed Dawson was then shown. She stated, "I will be devastated if Wil wins. He does not deserve to win. And coming onto me on national television when he knows my husband is going to watch the show was just unfair and frankly, rude." (She later posted on her website that her comments were in jest. [1](X)
Later, after Wheaton had been voted out of the game by the other remaining players, he was seen off-stage where he said, "I decided that I was gonna, kinda, play a parody of a young actor. And I thought that would really get a rise out of Anne since she kept calling me pretentious. And I decided to play into that and really have fun with it. So hopefully, I don't come off looking too much like a jerk."