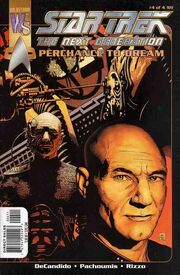 Timothy Bradstreet (born 16 February 1967; age 53) is an Eisner Award nominated artist. After graduating high school, the self-taught illustrator began doing illustrations for role-playing games before getting his break on the Dragon Chiang comic book in 1990. Since then, he has illustrated trading cards, comic books, and book covers, including Clive Barker's Age of Desire, Marvel's Blade, the X-Wing Rogue Squadron novels, and most notably, long runs on both Hellblazer and The Punisher, with more than seventy covers for each of those two titles.
In 2014, Bradstreet designed the cover art for the Star Trek: Section 31 novel Disavowed.
Star Trek creditsEdit
External links
Edit
Community content is available under
CC-BY-NC
unless otherwise noted.