Wiki Targeted (Entertainment)
Play Sound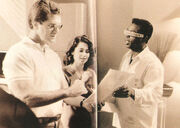 Thomas "Tom" J. Benko, ACE is an editor, writer, director and production manager. He was the editor of several Star Trek: The Next Generation, Star Trek: Deep Space Nine and Star Trek: Voyager episodes. He is the only person in the history of the franchise to have written, directed, and edited episodes of Star Trek. Benko directed the Next Generation episodes "Transfigurations" and "Devil's Due" and also wrote the stories of the Deep Space Nine episodes "The House of Quark" and "Return to Grace". He was interviewed by Lee Goldberg for the article "Tom Benko – Maker of Transfigurations", published in The Official Star Trek: The Next Generation Magazine issue 19, pp. 8-10.
Benko worked as editor for director Corey Allen on a television pilot called Infiltrator. This pilot did not sell but Allen called Benko to work for him on the pilot of Star Trek: The Next Generation, "Encounter at Farpoint". Right at the start of TNG Benko asked to direct an episode having experiences as second unit director on segments of The Rockford Files, Kojak, and Battlestar Galactica. He also sold scripts to Magnum, P.I. and The Fall Guy and worked as an actor.
Benko's other credits as editor inlcude episodes of Happy Days, Police Squad (Reza Badiyi was a director), Half Nelson, MacGyver, and Crime Story (starring Bill Smitrovich).
Star Trek credits
External link