Spider-Man: No Way Home Trailer Dropped - The Loop
Play Sound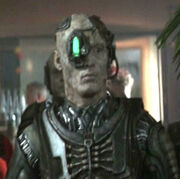 Thomas Robinson Harper is a stuntman, stunt actor, stunt coordinator, and second unit director who performed stunts as a Borg drone in Star Trek: First Contact, on which he also worked as an assistant stunt coordinator although without credit.
Among his stunt performing and coordinating resume are films such as Skateboard (1978), Megaforce (1982, with Persis Khambatta), Tank (1984), Death Wish 4: The Crackdown (1987, with Perry Lopez, Tim Russ, and Gene LeBell), Terminator 2: Judgment Day (1991), Point Break (1991, with Lori Petty), Maverick (1994), Waterworld (1995), From Dusk Till Dawn (1996, with Fred Williamson, Marc Lawrence, and stunts by Robin Bonaccorsi, Jennifer Caputo, Randy Hall, Anita Hart, Rosine "Ace" Hatem, Dana Hee, Billy Hank Hooker, Buddy Joe Hooker, Tommy J. Huff, Hugh Aodh O'Brien, Manny Perry, Tim Trella, Scott Wilder, and Spice Williams), Escape From L.A. (1996, with Michelle Forbes), Batman & Robin (1997), Godzilla (1998), I Still Know What You Did Last Summer (1998, with Jeffrey Combs, Bill Cobbs, Benjamin Brown, John Harrington Bland, and stunts by LaFaye Baker, Jophery C. Brown, Jennifer Caputo, Freddie Hice, and Henry Kingi, Jr.), The Kid (2000), Evolution (2001), The Glass House (2001), The Matrix Reloaded (2003), Charlie's Angels: Full Throttle (2003), Starsky & Hutch (2004), Mr. & Mrs. Smith (2005), Little Miss Sunshine (2006), Superbad (2007), and Iron Man (set for 2008, with Bill Smitrovich and stunts by Jon Braver, Max Daniels, Kevin Derr, Paul Eliopoulos, Christian Fletcher, Jim Halty, Mike Justus, and Tim Rigby).
He has also performed stunts in television series such as Daniel Boone, The A-Team (1983 and 1984, with Dwight Schultz, Keye Luke, Lenore Kasdorf, and Lance LeGault), Rescue 911, CSI: Miami (2003, with Salli Elise Richardson, Carlos LaCamara, Don McManus, Mic Rodgers, Johnny C. Meier, and Tim Trella), and In Case of Emergency (2007).
As a second unit director he has worked on films and television series such as Lords of Dogtown (2005), Little Miss Sunshine (2006), and In Case of Emergency (2007). Harper is also involved in the production company "Exotic Pursuits" which supplies film shootings with camera vehicles.
External links