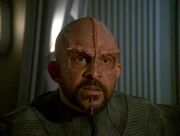 Tom Towles (born 20 March 1950; age 70) is an actor who played Hon'Tihl in the Star Trek: Deep Space Nine episode "Dramatis Personae" and Doctor Vatm in the Star Trek: Voyager episode "Rise".
Towles had a recurring role through the first season of the TV drama NYPD Blue. He also had a major role in the 1990 horror remake Night of the Living Dead. In that film, he co-starred with frequent Star Trek guest star Tony Todd, as well as Patricia Tallman. He and Todd would share the screen together again in the 1996 action film The Rock.
Towles was directed by TOS actor William Shatner in the independent science fiction film Groom Lake in 2002. Shatner also starred in and wrote the film.
Towles co-starred in the film Henry: Portrait of a Serial Killer (1986), for which he was nominated an Independent Spirit Award as Best Supporting Male. Most recently, he appeared in the cult film House of 1000 Corpses (2003) and its sequel, The Devil's Rejects (2005).
External links