The incredible third book in the bestselling Lost Years saga!
Traitor Winds is a Pocket TOS novel – #70 in the numbered series, and the third in the Lost Years series – written by L.A. Graf. Published by Pocket Books, it was first released in June 1994.
Summary
From the book jacket

It began with the lost years, the long-awaited story of what happened to Captain Kirk and the legendary crew of the USS Enterprise when their original five-year mission ended. Now, it is more than a year later, and Kirk and his crew have settled into their new, separate assignments.
But when Sulu and Chekov find themselves framed for murder and treason, the two officers are forced to go into hiding. As Admiral Kirk and Uhura frantically search for evidence to prove Sulu and Chekov innocent, they uncover a plot that threatens the very foundations of Starfleet. The web of conspiracy is woven tighter as the real culprits and Federation agents close in on the fugitives. Unsure of whom to trust and with time running out, the former USS Enterprise shipmates must once again rely on each other to find the truth and prevent the Federation from facing utter destruction.
Excerpts of copyrighted sources are included for review purposes only, without any intention of infringement.
Characters
Canon characters listed below are linked to the main article about them. Non-canon characters are not linked, but those that recurred, appearing or being mentioned in more than one story, are defined further in The Lost Years characters.
Regular and recurring characters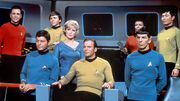 Other characters
Tim Anthony

Peter Broad

Dana Cercone

Jackson Kahle

Hernan Nakai

Gloria Obersti

Yolande Stern

Adam Willis

Robin Wood
References
A'Ila'Mos

Annapolis

Baltimore

brie (β)

coleslaw

espresso

gazpacho (β)

IKS Kozain (β)

ladyfinger

mascarpone cheese

Naiilati

Navajo

pickled herring

tiramisù

tortellini

UniPhase

USS DeGama

USS Resolution

The ship on the cover appears to based heavily on the SR-71 Blackbird spyplane. Presumably, it depicts Sulu's experimental cloaking shuttle.
External link
Community content is available under
CC-BY-NC
unless otherwise noted.