Verdict. (The Trial of James T. Kirk, Part 3 of 3)
During Kirk's hearing, the Salla of Nasgul continues to scheme. The Klingon Emperor, Commander Maltz, and Blaise all testify during the hearing. Blaise and Kirk get into an argument, and Kirk realizes that Salla has vanished. Scotty spots an impending explosion and this allows Kirk to save the Emperor's life. All of the charges against Kirk are duly dropped, and the USS Enterprise is allow to return to active duty, but the Klingons still have a spy placed high in the ranks of Starfleet.
Background information
Edit
Characters
Edit
Canon characters listed below are linked to the main article about them. Non-canon characters are not linked, but those that recurred, appearing or being mentioned in more than one story, are defined further in DC TOS volume 2 characters.
Regular and recurring characters
Edit
Vulcan Enterprise-A exec and science officer.
Enterprise-A surgeon.
Lawyer who had previously defended Kirk in a court martial at Starbase 11. In

TOS

: "

Court Martial

", the name was Cogley.
R.J. Blaise 

Protocol officer assigned as Kirk's (so-called) "watchdog".
Enterprise-A navigator and security chief.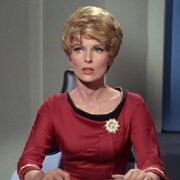 Lawyer formerly known as Areel Shaw.
Dav

Repeatedly shouts "all hail the Salla".
Enterprise-A helmsman.
Federation president (see unnamed Federation president) 

The Federation President.
Kathy Li 

Enterprise-A relief navigator.
M'Yra 

Enterprise-A science officer.
Klingon diplomat assigned to the Federation Council.
Enterprise-A communications officer.
Karl Tomlinson 

Vice admiral.

Kelvis 

Klingon soldier.
Vulcan ambassador.
Enterprise-A chief engineer.

Vlagro 

The Salla.

Fouton 

Security ensign.
Starfleet commander in chief.

Klingon emperor
Mentioned
Edit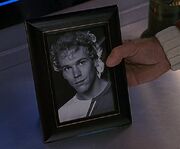 Kirk mentions that Klingons killed his son.
Klingon commander.
Other characters
Edit
Klingon imperial guardsmen

The Klingon ambassador's staff and guards.

Nasgul attendants 

The Salla's staff and guards.

Enterprise security guard

Enterprise pilot 

Lieutenant junior grade.
Community content is available under
CC-BY-NC
unless otherwise noted.