The following is a list of unnamed USS Relativity personnel.
Alien helmsman
Edit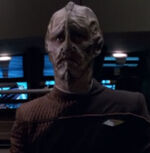 The helmsman of the Relativity was an individual of an unknown species. (VOY: "Relativity")
The alien helmsman was played by background actor Matthew Cannon Hanson who received no credit for this appearance.
Bridge officers
Edit
These three bridge officers served under Captain Braxton aboard the Relativity.
The first bridge officer accompanied Lieutenant Ducane to retrieve Seven of Nine from aboard the USS Voyager. (VOY: "Relativity")