List of unnamed Voth.
Borg drone
The assimilated Voth was a personality assumed by Seven of Nine when a Borg vinculum causes her to develop a multiple personality disorder. (VOY: "Infinite Regress")
Guard #1
This guard beamed to the USS Voyager and was knocked unconscious by Tom Paris. (VOY: "Distant Origin")
Guard #2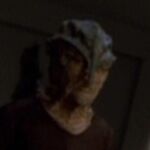 This guard transported to the bridge of the USS Voyager, accompanying Haluk. (VOY: "Distant Origin")
Tsunkatse spectator
This spectator was in the audience of several Tsunkatse matches near the Norcadian homeworld in 2376. (VOY: "Tsunkatse")
Community content is available under
CC-BY-NC
unless otherwise noted.