This is a list of unnamed land, sea, and air vehicles.
Arctic vehicle
Edit
The A-6 excavation team utilized a wheeled vehicle on which a snowplow was mounted during their 2153 work in the Arctic Circle on Earth. (ENT: "Regeneration")

Automobile
Edit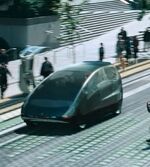 This automobile operated on Earth in 2259 of the alternate reality. Khan ran across a highway behind this vehicle. (Star Trek Into Darkness)

Cray's ship
Edit
This ship, despite being hit by a typhoon in the Pacific Ocean, managed to return to London harbor with Captain Cray and his crew still alive. According to Chakotay, very little - "a few planks, half a sail" remained of the ship. (VOY: "Year of Hell")
This ship was only mentioned in dialogue.
Farm implements
Edit
These farm implements were seen watering the vineyards at Château Picard in 2399. (PIC: "Remembrance")

Hangar 1 vehicle
Edit
In the alternate reality, a yellow vehicle was stationed in Hangar 1 at Starfleet Academy in 2258. (Star Trek)

Kelemane's species aircraft
Edit
In 2376, a dark craft with bright white lights was used by Kelemane's species. (VOY: "Blink of an Eye")

Ships near San Francisco
Edit
In 2258, a number of ships were moored near San Francisco in the alternate reality. (Star Trek)
Shuttlebay vehicle
Edit
During the late 2250s, a wheeled vehicle was regularly seen in use in the shuttlebay of the USS Discovery. (DIS: "If Memory Serves")
It was possibly some sort of utility vehicle, as it did resemble a truck and it was likely used for loading shuttlecraft.
Earth water vehicle
Edit
The USS Enterprise (NCC-1701) library computer contained a video of children on Earth riding in some kind of vehicle while water was splashing from below. (TAS: "One of Our Planets Is Missing")
Community content is available under
CC-BY-NC
unless otherwise noted.