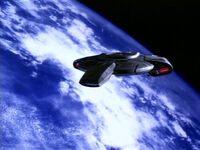 My Favorite Ship: The USS Defiant (Defiant-class)
ARC Trooper 3: Age 13
Favorite series: TNG and DS9
Favorite Character: Captain Jean Luc-Picard
Favorite race: The Cardassians
Favoite ST Episode:"Encounter at Farpoint"
Favorite Star Trek Movie: "ST: First Contact"
Me, Myself, and Star Trek
Edit
I, ARC Trooper 3, am a dedicated Star Trek and Star Wars Gamer/Watcher. I definately thinks that Star Trek is the coolest thing that Gene Roddenberry produced. Basically the only thing he produced actually. After watching the Original Series a long time with my dad, I decided that he would expand and watch other shows, such as DS9 and TNG. He then decided, that seeing the USS Defiant for the first time, I would reach for the stars, and discover the Star Trek universe truly and completely
I am 13 years old, and have already seen all of the Original Series episodes, Next Generation, and Deep Space 9 Episodes. Believe it or not, I have only see one Voyager episode, and that was "Endgame"! My favorite character would have to be Captain Picard. He's an awesome guy from the 80's with a neat accent! My second favorite would have to be Dr. McCoy. He's a classic! Yeah. Star Trek has changed my life in a LOT of ways!
Favorite Episodes
Edit
The Next Generation
"A Fistful of Datas"
"Q Who?"
"Relics"
"Unification Parts 1 & 2"
"Encounter at Farpoint Parts 1 & 2"
Deep Space 9
"Emissary"
"The Jem'Hadar"
"Defiant"
Favorite Things other than Star Trek
Edit
My friends have gotten on to me for being a "Trekkie" so I like Star Wars for them! My favorite movie is Revenge of the Sith, and I currently own a BUNCH of Star Wars and Star Trek games. My favorite type of trooper is the Advanced Recon Commando, or ARC Trooper. You can tell that's where I got my name!
ARC Trooper Pic: Trooper
The Specs
Edit
Instead of the quiet and large Enterprise-D and Enterprise-E, I like the over-powered and over-armed little devil known as the USS Defiant! As you know from reading the actual Defiant article, this ship has the firepower of three Galaxy-class starships, and is a little smaller than the top four layers of the saucer section of the USS Voyager!
Community content is available under
CC-BY-NC
unless otherwise noted.